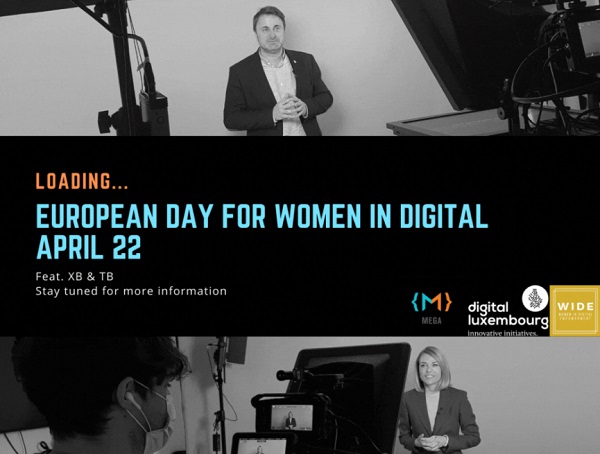 Credit: WIDE
On Thursday 22 April 2021, Luxembourg is joining in the celebrations for the European Day for Women in Digital, initiated by the European Commission in collaboration with several European Union (EU) member states.
The European Day for Women in Digital aims to highlight both the challenges and opportunities for women in the digital field. Whilst labour market data show that women remain largely under-represented in information and communications technology (ICT) professions, Luxembourg has made progress in recent years. The Luxembourg government has made equality between women and men one of its priorities. As such, this Europe-wide day is also about promoting professional equality and encouraging the participation of women in this promising sector.
For this European Day for Women in Digital, the Luxembourg government is launching, in cooperation with the association Women in Digital Empowerment (WIDE), a new awareness campaign encouraging women interested in technology to play an active role in this field, fight against stereotypes and raise awareness of these professions. The campaign includes video messages from government ministers being posted on social media, as well as the publication of statistics and infographics.
A panel of experts, organised by the Equality Ministry, WIDE and Digital Luxembourg, will discuss in greater detail the challenges and opportunities for women wishing to work in the ICT sector, as well as the means of action that can be used by political and economic actors. This panel will be held on Thursday from 12:30 to 14:00, with Prime Minister Xavier Bettel and Minister for Equality between Women and Men, Taina Bofferding, delivering the opening address. Panelists include George Bock, Founder and CEO of invesTRe, and Jelena Zelenovic, Senior Head, CISO & OpRisk at the European Investment Bank (EIB). The panel discussion will be streamed via Zoom here.
The Luxembourg government has been encouraging investment in infrastructure and in innovative digital technologies such as artificial intelligence (AI) and 5G. Such investments must go hand in hand with the development of digital skills and qualified ICT personnel which are lacking in Luxembourg and elsewhere. However, it is not only a question of fighting against the talent shortage and against the inequality of professional conditions, but also of shaping digital technology without gender bias. Prime Minister Xavier Bettel, who also serves as Luxembourg's Minister for Communications and Media, noted ahead of this European day: "A dynamic and inclusive digital society can only be built with the participation of all".
Equality Minister Taina Bofferding expressed her conviction that "we must break with stereotypes linked to male and female occupations. The female sex is no less gifted than the male sex in this innovative sector. Joint efforts must be made, starting with the ministries concerned, but also with employers and professional chambers, which must commit to more diversity in these sectors of the future and to develop the necessary strategies".
In the framework of the European Day for Women in Digital, Luxembourg's Prime Minister and the Equality Minister are calling for a common commitment to creating an attractive training and working environment for everyone in the digital world. This is the sine qua non for girls and women to engage in new technologies and find lasting professional fulfillment there.
"You want to learn coding, programming, applications or the potential of big data[?] Whether you are at the start of your career or are retraining, seize job opportunities in the IT sector! Don't waste your talents and help make the digital world reflect the real world. Because the future is digital and egalitarian", concluded the ministers.