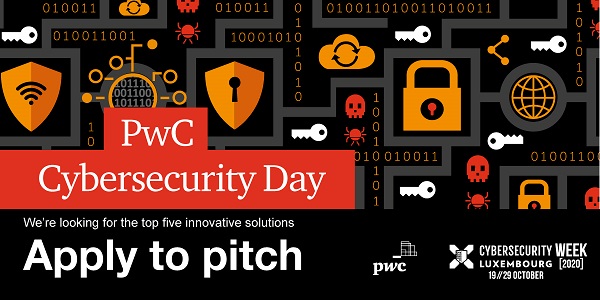 Applications launched today for the next top five innovative solutions addressing major cybersecurity challenges to take part in the pitching competition of PwC Luxembourg Cybersecurity Day, taking place on 29 October 2020.
As always, PwC Cybersecurity Day occurs within the framework of Cybersecurity Week, designed to position Luxembourg as a leading European location for cybersecurity startups, talent, investors and experts who are looking for growth opportunities. This milestone event promises valuable insights from the latest international trends in cybersecurity and privacy and network with experts in the industry.
One of the highlights of the PwC Cybersecurity Day is the pitching competition. Last year's edition was the most successful so far, with more than 50 applications. Applications for this year open as of today, Monday 18 May, and will close on 30 June 2020. The five selected solutions will be announced on 16 September ahead of the pitching competing on 29 October 2020.
At the pitching competition on PwC Cybersecurity Day, a jury of experts representing the market and industry will evaluate each solution that pitching companies are presenting based on the criteria of solution relevance, solution quality, leadership potential and values. The winner will be announced at the award ceremony during the gala dinner on the same day (29 October) within the framework of the Cybersecurity Week.
Koen Maris, Cybersecurity Leader at PwC Luxembourg, commented: "Once the COVID-19 quick-and-urgent action stage is gone, businesses have to think through their current cybersecurity measures and how they have to be adapted or advanced because of the generalised implementation of remote work. This is why the search for innovative solutions addressing major cybersecurity challenges is even more important. We are looking forward to seeing what applicants have to offer".