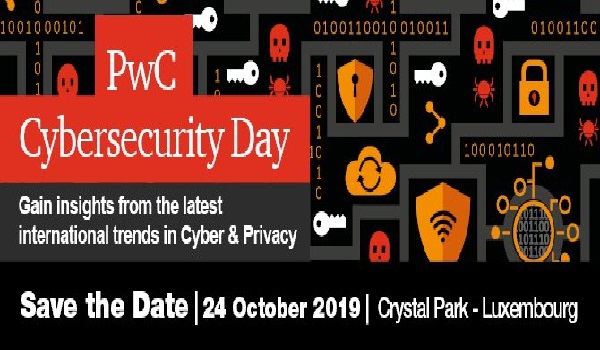 Applications have opened for the fourth edition of the PwC Cybersecurity Day, taking place on 24 October 2019, in the framework of Cybersecurity Week, on PwC Luxembourg's premises.
From IT security to digital trust: how to help CISOs, DPOs and CEOs ensure they keep the organisation secure in a digital society. The PwC Cybersecurity Day will once again offer a unique opportunity to gain insights from the latest international developments in cybersecurity and privacy. This year's event will be split into two distinct parts: the morning will be dedicated to CISOs with technical updates and cybersecurity solutions, leaving the afternoon with dedicated sessions for the audience. These sessions will focus on cybersecurity for CISOs and privacy for DPOs, as well as an executive session for CEOs.
This year, the event will be welcoming distinguished speakers from all over the world, representing a rich panel of thought leaders, who will share the stage with companies engaging in a pitch competition of their innovative solutions. They will present how they meet cybersecurity challenges in the field of fraud and cybersecurity investigation or artificial intelligence (AI) for cybersecurity.
One of the most exciting aspects of the PwC Cybersecurity Day is the pitching competition for the top five innovative solutions addressing major cybersecurity challenges in the above fields. Applications are open from 18 June to 26 July 2019. The five selected solutions will be revealed on 2 September 2019 and the pitching competition will take place on 24 October at the PwC Cybersecurity Day, followed by an Award Ceremony and Gala Dinner.
The Cybersecurity Solution of the Year Award will be conferred by the Jury and the audience to the candidate that demonstrates excellence at all levels, from strategy to execution. As such, PwC Luxembourg has launched a pan-European call for the best and most relevant cybersecurity solutions. Companies pitching their business cases will gain credibility with international investors and corporate stakeholders and the companies providing the five best solutions will increase their visibility through international media exposure, as well as meeting potential partners carefully selected from PwC's wide-ranging network at a dedicated matchmaking event. Additional benefits include professional coaching by the PwC team and participation at a European-level event in cybersecurity, namely Cybersecurity Week Luxembourg 2019.