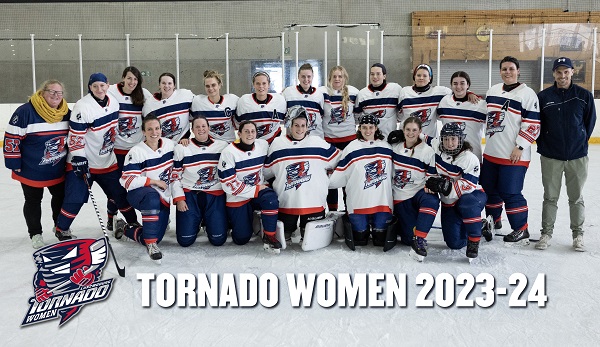 Tornado Women team for the 2023-24 season; Credit: Liam McEvoy
The 2023-2024 season of the Luxembourg Hockey League (LHL) kicked off on Monday 30 October 2023, with a Division 2 game between Tornado Women and Silverbacks Luxembourg.
This year's LHL brings together eleven teams, including three newcomers: Grand Ducs Luxembourg, Beaufort Knights 3 and Hurricanes Luxembourg 2. Tornado Women are the only women's team in the league, as well as the only women's ice hockey club team in the country as a whole.
To learn more about the evolution and growing popularity of this sport among women in the Grand Duchy, Chronicle.lu spoke with Kera Meyer, captain of Tornado Women and the Luxembourg women's national team (Lionesses), Mara Wagner, a founding member of both teams and who previously worked in the LHL organising committee, and Liam McEvoy, media partner of the Luxembourg Ice Hockey Federation.
The story of the first women's ice hockey (club) team in Luxembourg began in 2019. Tornado Coach Christophe Hernandez held an adult beginner's class on Monday evenings, which became increasingly popular. When the group reached over 50 players, he decided to split it, resulting in Silverbacks Luxembourg and the first women's team: Tornado Women. More women continued to join, allowing the team to compete in friendly games against the country's various men's teams. In 2021, Tornado Women played their first competitive games in the LHL; they also play in the German Women's Ice Hockey League.
In 2022, Luxembourg sent a national women's ice hockey team (composed mainly of Tornado Women players), the Lionesses, to compete in the first Women's Development Cup, a showcase tournament organised by the International Ice Hockey Federation (IIHF) in Kuwait. The Lionesses secured historic victories throughout the tournament, including bronze overall.
Speaking about their own ice hockey experiences, Kera Meyer, a former gymnast, said she began playing the sport four years ago when the women's team was formed, and Mara Wagner, a former national figure skater, took up ice hockey as a new "fun" activity with a friend after secondary school. They noted how the sport has grown in popularity among women in recent years, with the team becoming more competitive, particularly the year of the Development Cup. Mara described this tournament as an "amazing experience", which offered the team an opportunity to play against other women at the international level. The next step is to qualify to compete in the world championships.
Upon their return from the Development Cup, the women's team noticed increased interest in the sport, particularly among younger girls who saw greater opportuntities for themselves as players in the future. Kera described the tournament as a "big milestone" that showed girls they could aspire to compete on the women's team. At present, there is no junior girls team in Luxembourg; younger girls and boys play together on the same teams.
In addition to an increase in players over the years, ice hockey activities (e.g. camps) for girls have been on the rise in Luxembourg. Interest among the public is growing too, with spectator numbers increasing slowly but surely. However, there is still a resource gap between the more established men's ice hockey teams and the younger women's team, particularly in terms of ice time. With more players showing up (more than 25 women on the ice at times), it is becoming increasingly challenging to "give everyone a chance", as Kera explained. Moreover, the men's teams still receive more sponsorship, for example for jerseys and transportation. However, this is an issue that is not exclusive to ice hockey. Mara and Kera said the goal was to have a large structure in place where every girl and woman can play ice hockey, with at least the same amount of ice time as their male counterparts.
Liam McEvoy praised Tornado Women - and other teams in Luxembourg - for their professionalism this year in particular, not least since ice hockey has been "historically a hobby" in Luxembourg. He added that he would like to see the sport reach a point where there were enough women - and even men - to allow for more of a selection for the national team(s). For example, depending on a player's level, they could play in either the LHL or at the international level. He said this was just "a matter of time" and of getting the word out. As Mara and Kera acknowledged, ice hockey remains a rather unknown sport in Luxembourg. One way to promote it (and attract and retain players) is through partnerships with universities and possibly secondary schools in the Grand Duchy. And perhaps, as ice hockey becomes more popular, more municipalities will consider setting up ice rinks, opening the sport up to more people. Currently, there are just two ice rinks: one in Kockelscheuer and another in Beaufort.
Concluding with what they most enjoyed about ice hockey, Mara said she felt "less nervous" and "more relaxed" playing as part of a team during the games, compared to being alone on the ice as a figure skater. Kera said she most appreciated "the speed of the ice" and how ice hockey is not just a physical sport; one has to think and act quickly, and play as a team, winning or losing together.
For more information about Tornado Women, visit https://www.tornadowomen.lu/.