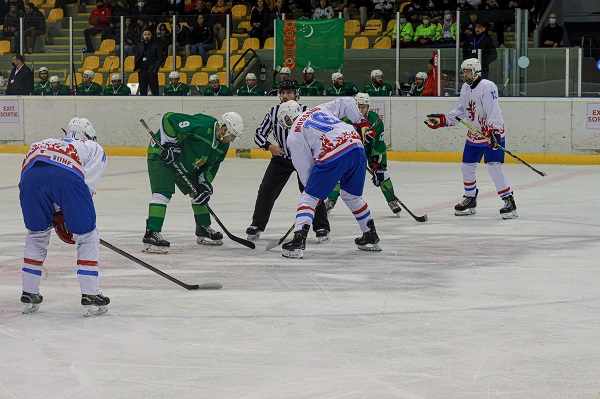 Credit: Ali Sahib
On the evening of Tuesday 5 April 2022, Luxembourg's national men's ice hockey team faced Turkmenistan in their second game of the International Ice Hockey Federation (IIHF) World Championship Division III – Group A, which they are currently hosting (3-8 April) at Patinoire Kockelscheuer.
After losing their opening game 2-7 to Turkey on Sunday evening, Luxembourg were back on the ice and ready for action on Tuesday.
About four minutes into the first period, Turkmenistan scored the opening goal. However, Luxembourg fought back and managed to equalise about two minutes later. There was some booing from the home crowd when Turkmenistan scored their second goal with just over ten minutes left in the period.
The Luxembourg side did not give in, however, and scored their second goal of the game with less than one minute to go in the first period. The spectators were visibily overjoyed, banging on drums, singing and clapping their hands in support of the host team.
Six minutes into the second period, Turkmenistan scored their third goal, keeping the pressure on Luxembourg. There was a brief pause when one of the guest team's players was injured near the net and the medical team had to help him off the ice.
Luxembourg subsequently equalised and, with just under three minutes to go in the second period, overtook their opponents with a fourth goal.
The third period saw Turkmenistan equalise with just 7.5 minutes to go. Children in the crowd were chanting "Allez Lëtzebuerg!" (Go Luxembourg!) and other spectators resumed clapping and singing to encourage the hosts.
The game went to overtime, with Luxembourg battling through to secure their first win of the tournament; the puck sailed into the net with three minutes left, resulting in a 5-4 win for the hosts.
The most valuable players (MVPs) of the game were No. 17 for Turkmenistan and No. 10 (Captain Benny Welter) for Luxembourg.
Luxembourg's national team will next play against the United Arab Emirates (UAE) on Thursday evening before going head-to-head (or stick-to-stick) with Chinese Taipei on Friday evening – the final match of the tournament.