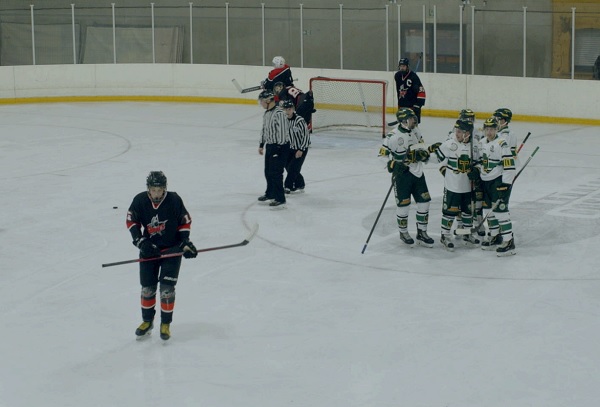 Credit: Liam McEvoy
On Sunday 21 November 2021, the Beaufort Knights of Luxembourg reached the top of the Royal Belgian Ice Hockey Federation (RBIHF) division 1 standings for the first time in more than three years following a hard-fought 6-3 win over the Mechelen Sharks.
The match began somewhat typically of this season's Knights team. The opposing Mechelen Sharks dominated possession of the puck and shots on goal. Had it not been for the play of goalkeeper Piotr Swiderek, the scoreline might have been very different.
At the six-minute mark, Sacha Backes gave the Knights an unexpected 1-0 lead after powering his way through the middle of the ice. The Knights would take that lead into an early intermission after a crunching body check from Brad Holman on a Sharks player literally broke the glass of the Mechelen arena. With only 30 seconds left on the clock, both teams agreed with the referees to use the scheduled period pause to fix the glass and then finish the first period officially for those seconds before beginning the second period.
The intermission was exactly what the Luxembourgers needed and they began to take command of the game 30 minutes in through a perfectly executed power-play goal from Mirko Mosr.
Four minutes later, the Sharks converted one of their many chances with Diego Marrant weaving his way through the defence. Less than a minute later, Claude Mossong and Brad Holman exchanged passes heading down the ice and after a soft pass towards the net from Holman, Mossong calmly collected the puck, passed the Sharks' goalkeeper and slotted into the open net to re-open the Knights 2-goal advantage. Mechelen stuck back seconds later (35:02) when Viljami Hietala Veeti snapped a quick shot past Swiderek to make it 3-2.
It was once again on the power-play that the Knights scored their 4th goal of the game. This time, Benny Welter played a cross-ice, 1-2 with Holman to tap-in at the back post. The score was 5-2 to Beaufort and Holman had scored his league-leading 13th goal in five games.
The third and final frame of the match saw two more goals scored. Ater a turnover in the Mechelen zone, Sacha Backes worked his way into the middle of the ice and snapped a wrist shot into the top corner to make it 6-2. Mechelen got a consolation power-play goal with nine minutes remaining through Owen Bernard, but it was not enough to deny the Beaufort Knights a fourth straight win and a place at the top of the division 1 standings.
The Knights now have a week off to prepare for a trip to Leuven to face the Chiefs in hopes of remaining at the top of the league.