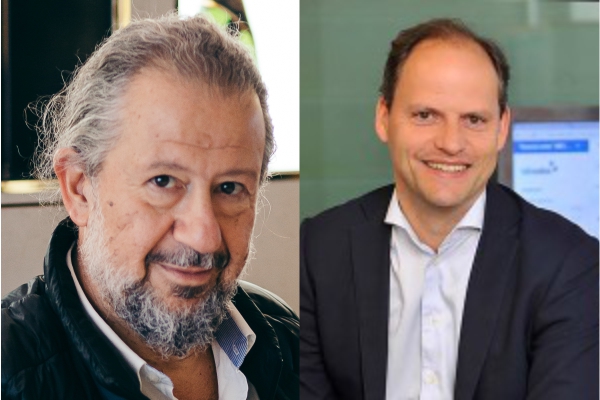 (L-R) George Valsamidis; Robert Glaesener; Credit: Governance.com
Luxembourg-based regulatory technology (RegTech) company Governance.com annouced the appointment of Robert Glaesener and George Valsamidis as board of directors with immediate effect.
Arnold Spruit has resigned from the Board to create space for the new additions. Georges Bock remains a director alongside Ralf Ferner, Head of Corporate Governance and Co-Founders Bert Boerman (CEO) and Rob Boerman (CTO).
Robert Glaesener is the Chairman of the AI-driven high-tech company, Talkwalker. From 2010 to 2021, he built and grew Talkwalker from start-up to a worldwide company of 450 employees as its CEO. Previously, Mr Glaesener founded Internaxx.com, the international online bank of TDBank in Luxembourg and served as its CEO from 2000 to 2010.
George Valsamidis founded a series of start-ups before successfully founding the company he subsequently helped scale up to become ALTEC Group, the largest IT group in Greece. More recently and with a background in IT infrastructure, Mr Valsamidis has coached and supported numerous start-up and scale-up companies in the IT and financial services industries.
Mr Glaesener said: "I am delighted to join the Board of Governance.com. Having already worked with Governance.com as a member of its advisory board, I now look forward to helping the company continue to successfully expand its footprint and fulfill its extraordinary potential to help the asset management industry to transform, one process at a time".
Mr Valsamidis said: "I am excited to join the Governance.com Board. This is a super opportunity to help a fast-growing FinTech succeed in scaling-up to serve its growing client base and help the asset management industry to digitalise business processes".
Mr Boerman said: "We are thrilled to welcome this combined wealth of experience to the Board. The experience and know-how of Robert Glaesener and George Valsamidis will be invaluable as we rapidly scale up our business while delivering client success. We owe much gratitude to Arnold Spruit for his work as director and Chairman of the Board - he has been a great asset to the company and will undoubtedly continue to contribute value as advisor".