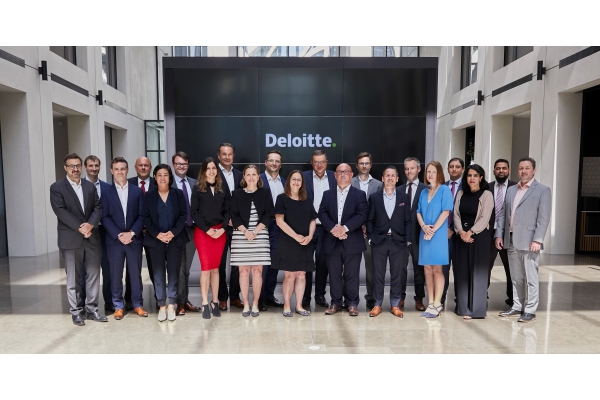 Credit: Deloitte
Deloitte Luxembourg has announced the appointment of 21 new Partners and Managing Directors.
In line with the firm's drive towards growth, while retaining its position as market leader in cornerstone industries, Deloitte Luxembourg has appointed ten new Partners and eleven new Managing Directors. These appointments take effect as of 1 June 2022.
"Our Firm's commitment to empowering the next generation of talent is the cornerstone of our strategy for the future. With the appointment of these 21 brilliant professionals , we believe we are well-equipped to seize the many opportunities ahead and serve our esteemed clients with the outstanding level of quality and commitment to excellence that characterises Deloitte," said John Psaila, CEO and Managing Partner at Deloitte Luxembourg.
With these appointments, the Firm now has 151 Partners and Managing Directors all engaged in the leadership of the firm's some 2,500 professionals. . In addition, fifteen professionals were promoted to the rank of Director.
New Partners
Vincent Blaise (Audit & Assurance) has fourteen years of audit experience in Luxembourg and Belgium, serving clients of various sizes in the manufacturing and commercial sectors under IFRS, Lux-GAAP and BE-GAAP. He is a Luxembourgish and Belgian Réviseur d'entreprises.
Erika Bourguet (Advisory & Consulting) is part of the Strategy Department, where she focuses on serving clients in the banking and European financial services industries, mainly addressing strategic issues and defining target operating models. Erika is certified in PMI/PMP Project Management.
Antoine Farioli (Tax) provides both VAT advisory and VAT compliance services to clients across all industries, with a focus on private equity and real estate, banks, and investment funds. Antoine also leads the Tax Digital Factory's Internal Efficiency pillar.
Sébastien Genco (Advisory & Consulting) has over fifteen years' experience in providing technology-related services to the financial services industry. He specialises in technology strategy, transformation, and hot topics like cloud, blockchain, web 3.0, decentralised finance and green IT.
Amandine Gillet (Advisory & Consulting) has over thirteen years of experience across China, Canada, Australia and Luxembourg. She specializes in technology strategy, transformation and implementation, mostly driving Sales, Marketing and Service Excellence. She leads the Digital Customer team and co-founded the emerging ERP practice.
Maryam Khabirpour (Audit & Assurance) is a Réviseur d'entreprises with extensive experience in the audits of banks, PSF and investment funds, covering the review of financial statements and prudential supervision reports and assessing compliance.
Justin Morel de Westgaver (Advisory & Consulting) has more than ten years' experience in servicing banking, wealth management, corporate, fund services and non-FSI clients with M&A, due diligence, growth and organisation strategies, business and financial planning, and performance management.
Ali Ejaz Siddiqui (Audit & Assurance) has over eighteen years of experience in the Consumer & Industrial Products and Alternative sectors. He has a solid knowledge of Luxembourg GAAP, IFRS and US GAAP, and has served large multinational groups, including SEC registrants under PCAOB auditing standards. Ali is a Réviseur d'entreprises agréé, an ICAEW Chartered Accountant (ACA) and a fellow of the Association of Chartered Certified Accountants (FCCA).
Bettina Werner (Audit & Assurance) has over fifteen years of experience acquired in Deloitte's Luxembourg, Southern Africa and Switzerland offices with a focus on internal controls optimisation, accounting systems transformation, and attest services. Bettina is a fellow member of the Association of Chartered Certified Accountants and a Certified Internal Auditor.
Hana Witzke (Tax) joined Deloitte in 2018 and has over fourteen years' experience in managing, structuring and setting-up AIFs and private equity structures in Luxembourg. Hana is a qualified lawyer in Germany and an active member of the German business community.
New Managing Directors
Arnaud Duchesne (Advisory & Consulting) has more than eighteen years' experience in the banking sector and the manufacturing industry. He delivers services to financial institutions, helping them navigate prudential obligations and run sound and sustainable business activities.
Karl Haase (Operations) is part of the Independence team, of which he will take over the leadership in the coming months, advising our practice on independence-related matters. He is a seasoned auditor with valuable experience in serving multinational groups, and is a member of the South African Institute of Chartered Accountants and a Réviseur d'entreprises.
Carole Hein (Tax) has over 21 years' experience in the FSI sector, assisting banks, PSF, management companies and insurance companies on corporate taxation, transfer pricing, tax accounting and tax compliance. She is also active in DAC 6 developments and is a member of the IFRS centre of excellence.
Rainer Mahnkopf (Audit & Assurance) has over 21 years of audit experience in the industrial and FSI sectors with a focus on retail and alternative investment funds. He also specialises in AIFs investing in renewable energy, social impact and other infrastructure investments. He is a German Wirtschaftsprüfer and a Réviseur d'entreprises.
Grégory Marchal (Tax) is an experienced tax advisor specialising in direct tax advisory and direct tax compliance. He advises and assists Luxembourg subsidiaries of multinational groups with matters such as corporate income tax returns, tax provisions and tax reporting.
Vincent Martin (Tax) assists alternative asset managers on various domestic and international tax issues, including M&A, global tax optimisation, tax due diligence and other areas affecting AIFs. He also has strong experience in the African market (both inbound and outbound).
Olivier Mohy (Advisory & Consulting) has over 20 years' experience in providing fund reporting services to administrators and management companies and specialises in compiling funds' financial statements under various GAAP and other IM industry regulatory reports and disclosures. In addition, he is involved in projects such as TER/ongoing charges, NAV error, SFTR, SRDII and SFDR.
François Monmignaut (Operations) will become the Firm's CFO as of 1 June, bringing a wealth of experience in finance and change management. He has extensive expertise in effectively addressing complex finance operations, and supporting businesses in developing a competitive advantage.
Nicolas Schoukens (Advisory & Consulting) has more than fifteen years' experience in buy-side and sell-side transactions and due diligence for private equity and corporate clients. His expertise includes valuation, due diligence and M&A assignments.
Maurice Schubert (Operations) is currently the Firm's CIO. With information security as a primary focus, he has in-depth knowledge in information technology, cyber risks as well as management, primarily for the financial industry. Maurice holds CISA, CISSP, CSSLP and OSCP certifications in information security.
Adil Sebbar (Audit & Assurance) joined Deloitte in 2007 and has over fifteen years' experience in audits of the financial services industry, servicing PSF, management companies, banks and investment funds. Adil is a Réviseur d'entreprises.