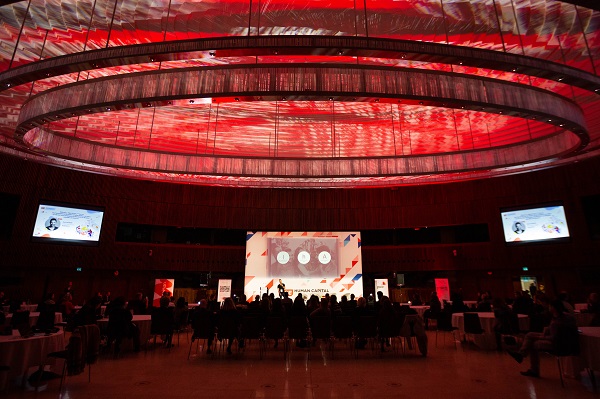 Credit: Farvest
Human Capital Europe, the HR One flagship event dedicated to the Human Resources (HR) sector, is returning to Luxembourg next month in a physical format.
After last year's digital edition, a new edition of Human Capital Europe will take place in person at the European Convention Center Luxembourg (ECCL) on Tuesday 16 November 2021.
Organised by HR One and powered by Farvest, Human Capital Europe offers participants an opportunity to attend a one-day conference discussing the latest HR and management trends, connect with local and international HR key players, visit an exhibition area and network. The traditional HR One Gala dinner, which hosts the Luxembourg HR Awards ceremony, will close the event.
From 09:00 to 18:00, the main stage of Human Capital Europe will welcome leaders on site to address two main topics throughout the day. The morning conference will be dedicated to the topic "From ordinary people to extraordinary leaders". CEOs and leadership experts will take the stage to share their journey and best practices. Among them, Niccolo Polli (CEO of HSBC), Aline Muller (CEO of LISER) and Gaspar Kocsis (COO of F4All) will attempt to answer the question of "How to manage in 2022: the role(s) of modern leaders". Participants will be able to discover an out-of-the-box management vision, with the participation of Paul Douard (Editor-in-Chief at VICE) presenting "How anti-ambition will save you". During this morning session, author-entrepreneur Somi Arian (author of "Career Fear – how to beat it" will also share a practical roadmap for business owners and company leaders to survive and thrive in possibly the most challenging economic conditions in modern history.
The afternoon conference will focus on "The HR year". HR directors and experts from all types of industries will take the stage to share their future priorities with the audience. Confirmed speakers include Laure Salducci (HR Director of European Stability Mechanism), who will share her vision on what's next for HR, as well as Samuele Zoccari (Chief HR and Organisation Officer at Generali Employee Benefits) and Eros Sharma (Head of Leadership and Learning & Development, Generali Employee Benefits), who will discuss mental health and wellness as priorities for HR. Participants can also learn more about mixing tech and human in an efficient and complementary way via a discussion entitled "The Magic Mix: when Tech meets HR", featuring Emeline Barbenchon (Senior Manager, HR Technology & Transformation at PwC Luxembourg) and Caroline Linel (Senior Manager, Reward and Regulation at PwC Luxembourg).
The organisers will also welcome Christopher Freres (Head of Recruitment, Human Relations & Talent Management at Banque Degroof Petercam), Laurent Peusch (Head of Employer Service at ADEM) and Oreste Shimwe (Talent acquisition Manager at CGI) for a discussion focusing on "HR strategies to solve talent shortage".
In addition to the main stage conferences, POST Luxembourg will be organising, in parallel, its Internet of Things (IoT) event "Let's make flexibility your new super power!". This flagship event explores how IoT offers opportunities for greater flexibility in the workplace.
Companies represented in the ECCL exhibition hall at Human Capital Europe include CoachHub, Personio, MySkillCamp, Workday, Hunteed, House of Training, ICT job and ID Linked. Moreover, a networking cocktail will be held from 18:00 to 20:00 to promote business reconnection in an informal atmosphere.
The HR One Gala Dinner will close this one-day event (from 20:00 to 23:00) and will gather 300 high-end HR personalities. The dinner will be organised under the CovidCheck regime. Among others, KPMG Luxembourg, Servior, BDL, BIL, Clearstream, Vodafone, Ferrero, UBS, Prolingua, PwC Luxembourg, Loyens & Loeff, Qualia Consulting, Key Job, Devoteam, Cubiks, Intesa Sanpaolo, Chambre des Métiers, BearingPoint Luxembourg and BDO Luxembourg have already confirmed their attendance.
Further information about the programme, speakers and tickets is available at: www.humancapitaleurope.com.