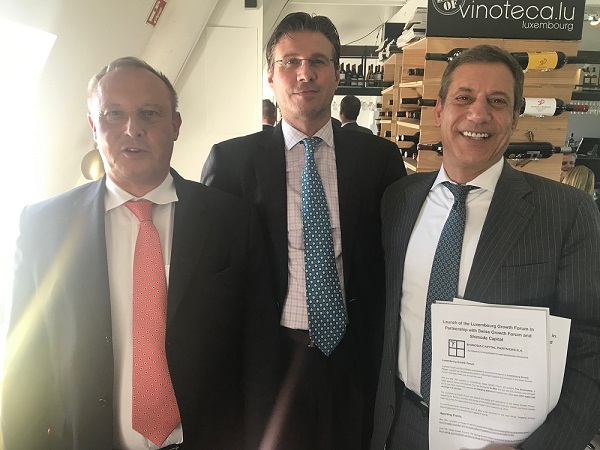 Fox Automotive presenting at the Luxembourg Growth Forum;
On Tuesday, House 17 was the venue for a presentation by Fox Automotive of Switzerland of the MIA sub-compact electric car for the urban market, with Andreas Kratzer, Chairman and interim CEO of FOX Automotive International to an invited audience, presenting as part of its European Roadshow.
In a breakthrough in battery technolocy, it takes just 5 minutes to fast-charge for a 200km autonomy (20 kWt battery), with 3 hours to charge over a standard 220V power supply. The car is almost maintenance-free, with just tyre changes required with the first 150,000 km.
In responding to new challenges of urban mobility, MIA began production in 2011-2014, with 1,300 vehicles produced, each with a retail price of around €32,000. As the price was deemed expensive by the market, the original investor left, the French state became involved and Fox Automotive came on board in 2016 and controls all MIA's Intellectual Property, including the manufacturing plant in Hungary.
The Electric Vehicle (EV) market is set for continued strong growth in China, Europe and the US, thanks in part to increased customer acceptance. In Norway, for example, last month saw 58% of new car sales being EVs.
The innovative LION-Smart "LIGHT" battery is a full lithium battery (no cobalt) and costs €2,500 - the former batteries used cost over $9,000. Such a (new) battery installed in a BMWi sees its having a range of 700km.
The MIA comes in 3 models: the MIA, MIA L and MIA U, with an entry-level price of €13,000 ($15,000). With government incentives / subsidies, the nett price is then reduced to €7-8,000. The next model will be the MIA 242 at a price of €20k+.
The MIA is 2.87m in length (similar to the Smart 242) and has a turning circle of 4.3m (compared to the Smart's 7m), with sliding doors on both sides of the vehicle.
The MIA is targeted for car-sharing fleets, individual and family use and well as light industrial use, e.g. postal deliveries.
Andreas Kratzer confirmed that Ekkhard Phillip, responsible for the Mercedes factories producing the A-Class and B-Class vehicles, will be joining as CEO of FOX Automotive in Hungary, overseeing all production.
In their plan to go to market, they have started their roadshow in Dubai, currently in Europe and will then go on the US. This is coupled with a capital increase in 2019 Q2 of €6 million (5 million new shares), with another €10 million in 2019 Q3-4 (convertible bonds), with production to re-start in 2019 Q4, with full production in 2020 Q1.
In Y1, FOX Automotive expects to produce 12,000 vehicles, with capacity to increase to 90,000 vehicles by 2024. Additional licencing (India, China, etc.) would add significantly to these numbers.
The event was held at the launch of the Luxembourg Growth Forum, an initiative of Shimoda Capital Partners SA and Swiss Growth Forum, which offers an ongoing series of events whereby companies will present, over luncheon or cocktail evenings, to interested parties. The presenting companies will be either capital raising or seeking to build market exposure / investor relations, either as a listed entity or pre-IPO / private company. The Luxembourg Growth Forum is led by Andreea Porcelli and David Mapley of Shimoda Capital Partners.
FOX Automotive in Switzerland will soon be listed on the TSX (Toronto Stock Exchange).