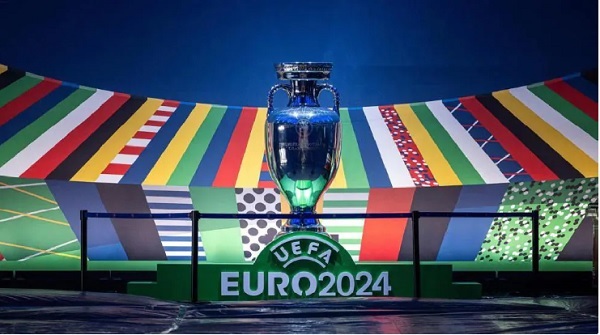 The 17th UEFA European Championship Finals (UEFA Euro 2024) will be played in Germany, from 14 June to 14 July 2024.

A total of ten stadia will be used throughout the tournament (Munich will host the opening game on 14 June and Berlin will host the final on 14 July), as follows:

- Berlin: Olympiastadion Berlin (current capacity: 70,000)
- Cologne: Cologne Stadium (47,000)
- Dortmund: BVB Stadion Dortmund (66,000)
- Dusseldorf: Düsseldorf Arena (47,000)
- Frankfurt: Frankfurt Arena (48,000)
- Gelsenkirchen: Arena AufSchalke (50,000)
- Hamburg: Volksparkstadion Hamburg (50,000)
- Leipzig: Leipzig Stadium (42,000)
- Munich: Munich Football Arena (67,000)
- Stuttgart: Stuttgart Arena (54,000)

A total of 24 teams will play in the tournament finals: Germany qualify as hosts, with the other 23 berths to be filled via the European Qualifiers which run from March to November 2023, and via play-offs scheduled for March 2024.
Qualifiers
For the qualifiers, there are ten groups of five or six teams, all playing home and away in a round-robin format, with the group winners and runners-up advancing directly to the final tournament. The remaining three teams will be decided through the play-offs, featuring twelve teams selected based on their performance in the 2022/23 Nations League.

Luxembourg was drawn in Group J along with Portugal, Bosnia and Herzegovina, Iceland, Slovakia and Liechtenstein.

Group A: Spain, Scotland, Norway, Georgia, Cyprus
Group B: Netherlands, France, Republic of Ireland, Greece, Gibraltar
Group C: Italy, England, Ukraine, North Macedonia, Malta
Group D: Croatia, Wales, Armenia, Türkiye, Latvia
Group E: Poland, Czechia, Albania, Faroe Islands, Moldova
Group F: Belgium, Austria, Sweden, Azerbaijan, Estonia
Group G: Hungary, Serbia, Montenegro, Bulgaria, Lithuania
Group H: Denmark, Finland, Slovenia, Kazakhstan, Northern Ireland, San Marino
Group I: Switzerland, Israel, Romania, Kosovo, Belarus, Andorra
Group J: Portugal, Bosnia and Herzegovina, Iceland, Luxembourg, Slovakia, Liechtenstein

Luxembourg's games are as follows (at 20:45 unless otherwise stated):

Thu 23 March: Slovakia vs Luxembourg
Sun 26 March: Luxembourg vs Portugal (SOLD OUT)
Sat 17 June: Luxembourg vs Liechtenstein (15:00)
Tue 20 June: Bosnia and Herzegovina vs Luxembourg
Fri 8 September: Luxembourg vs Iceland
Mon 11 September: Portugal vs Luxembourg
Fri 13 October: Iceland vs Luxembourg
Mon 16 October: Luxembourg vs Slovakia
Thu 16 November: Luxembourg vs Bosnia and Herzegovina
Sun 19 November: Liechtenstein vs Luxembourg

All of Luxembourg's home games will be played at the Stade de Luxembourg; for tickets (€20), see https://www.stadedeluxembourg.lu.