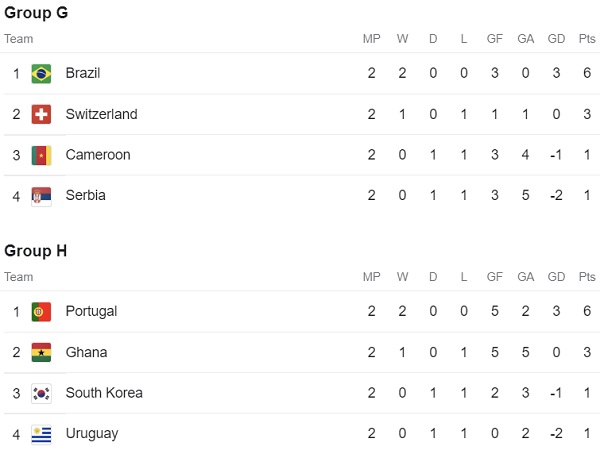 Monday 28 November 2022 saw the fourth and last group of eight teams, from Groups G and H, play their second group matches in FIFA World Cup 2022.
Group G
In the early match, Cameroon played Serbia at the Al Janoub Stadium where the pre-match atmosphere was electric and colourful too. Both teams had lost their opening games, to Switzerland (0-1) and Brazil (0-2) respectively, so a win here was vitally important for both teams. The opening minutes saw both teams starting nervously, with both using the full width of the pitch yet delivering poor final balls/ crosses. On 10 minutes, Serbia got the ball in Cameroon's box and Mitrovic played a wonderful 1-2 before wrong-footing defender Nkoulou; his cross-goal shot flew past the goalkeeper and cannoned off the far post but unfortunately not into the net. On 16 minutes, Mitrovic had another attempt and blasted wide from close range. Cameroon were then stirred into action with Kunde's rasping shot from a strong run down the right eliciting a superb save from the Serbian goalkeeper, Milinkovic-Savic. Both sides were attacking with intent and it felt as if a goal would not be long in coming. On 28 minutes, Cameroon opened the scoring when unmarked Castelletto tapped in from a corner which received a glancing header. There were fears in some quarters that the goal made be ruled out for offside but the goal stood. 1-0 to Cameroon. The West African team seemed to grow in confidence and their passing became quicker and more accurate. But Serbia also continued to attack when they had the ball: Tadic had a great opportunity on 39 minutes but shot well over the bar from inside the box. Serbia's build-up play was good, but their final balls were letting them down. Kunde won the ball in midfield and ran through to the Serbian box but shot straight at the goalkeeper and put the rebound wide. On 44 minutes, Serbia were awarded a free kick in a dangerous position and Pavlovic headed in from Tadic's free-kick. 1-1. 6 added minutes. Serbia pressed again and Cameroon's defence parted for Milinkovic-Savic to beat the goalkeeper and send Serbia ahead. 2-1 for Serbia. On 50 minutes, Mitrovic broke through but his shot was tipped around the post by the Cameroon goalkeeper. HT 2-1 to Serbia. Both sides started the second half with attacking intent but Serbia started to dominate. On 52 minutes, Mitrovic started a move, spotted an overlap and coolly slotted the ball home from close range at the end of a very good team goal. 3-1 to Serbia. Cameroon then made a substitute and introduced a second striker. A minute later, Cameroon's Choupo-Moting was millimetres away from connecting with a free kick which could have resulted in a goal back. Serbia were passing confidently and were not afraid to build from deep, while Cameroon had thrown caution to the wind. On 59 minutes, Cameroon had a great break but Serbia's defence held firm. Cameroon lost the ball in the middle of the pitch and their heads dropped. But, on 62 minutes, Aboubakar lobbed the Serbian goalkeeper from out of nothing. Initially, the referee and linesman thought it was offside, but VAR overruled them. 3-2 to Serbia. Just 3 minutes later, Cameroon had the ball in the back of the net again with Aboubakar latching onto a long ball and squaring for Choupo-Moting to slot home. Amazingly the score was now 3-3 with 25 minutes to play. Serbia then tried to slow down the ball. On 75 minutes, Mitrovic wasted a glorious opportunity to put his team ahead once again. Serbia then made a triple substitution, and Cameroon a double substitution. While players on both teams were visibly tiring, both continued to press, looking for a winning goal. Gaps were appearing in both defences. Goalscorer Choupo-Moting had a ferocious shot on target but he was too far out for it to trouble the goalkeeper. Up the other end, Kostic was in on goal but could not score; the Mitrovic shot just wide. This was undoubtedly one of the most exciting matches of the tournament so far. 6 minutes of added time announced. Mitrovic was in on goal again but was thwarted by Epassy who made a brilliant save to deny him. Nkoudou took a free kick for Cameroon but his shot was straight at Milinkovic-Savic who saved comfortably. FT 3-3. But the result does not really help either team, although they are both alive, each needing to win their remaining game.
Brazil played Switzerland, both winners of their first matches, at the Stadium 974. A win here for either side would virtually secure progress to the knock-out phase. The main talking point before kick-off concerned Neymar being injured for Brazil: Raphinha took his place in the front three alongside Richarlison and Vicinius Junior. Brazil had most of the early possession and built slowly, passing carefully until a gap appeared when a through-ball would be hit to find one of the front three. When Switzerland did get possession, they were put under strong pressure. On 11 minutes, Brazil had their first opportunity with Richarlison's cut-back being intercepted by the Swiss defence. Switzerland had a free kick 15m out from the box but they failed to get a cross in to the disappointment of their fans. On 19 minutes, Lucas Paquetá had a great break down the left wing but Richarlison could not get on the end of his cross. On 26 minutes, Vicinius Junior got his knee to a strong shot into the Swiss box, but Sommer in the Swiss goal turned it behind for a corner. On the half-hour, it was Raphinha with his first shot of the match, a long range effort that Sommer saved. Still goalless, but if felt only a matter of time until the opening goal, most likely from Brazil. On 35 minutes, Switzerland had a rare excursion upfield and Vargas' point blank shot was stopped by Alisson in Brazil's goal. On 44 minutes, Brazil had a corner, following which the ball bobbled around the box and was eventually cleared by the Swiss defence. 1 minute added time. HT 0-0. In the second half, Switzerland started the brightest and threatened Brazil's box. But on 56 minutes, Vicinius Junior again broke down the left but Richarlison again was inches away from connecting with the ball when crossed. Both teams made a couple of substitutions to try to break the deadlock. On 63 minutes, Vinicus Junior broke the deadlock as he ran onto a through ball, evaded a tackle and then poked it past the oncoming goalkeeper. After a wait for VAR, the referee ruled it out for offside. Brazil's fans were not happy... After another attack down the left, Brazil were awarded a free kick near the goal-line but could not capitalise on the opportunity. Switzerland responded with a rare excursion up the pitch which eventually came to nothing. On 72 minutes, Brazil made 2 more substitutions, both changes to their forward line. Antony, one of the substitutes now on the field, broke down the right and was awarded a free kick but wasted the chance by hitting it low to be easily cleared by the Swiss defence. 10 minutes remaining. On 83 minutes, Casemiro did get the breakthrough. Unmarked in the box, the ball fell for him and he hit it first time (the main difference between than and previous attempts) to fly past the goalkeeper for Brazil to take the lead. 1-0 to Brazil. On 83 minutes, Sommer saved Switzerland from going further behind when stopping a powerful shot from his right. Switzerland tried to play out from the back but were caught in possession. 6 minutes added time announced. On 93 minutes, Brazil had 2 golden opportunities in quick succession, with Vicinius Junior guilty of taking too much time on the ball. FT 2-0 for Brazil who qualify for the knock-out phase.
The last matches in Group G will be played on Friday and will see Serbia against Switzerland, at the same time as Cameroon against Brazil.
Group H
South Korea (who drew 0-0 with Uruguay in their opening game) played Ghana (who lost 3-2 against Portugal) at the Education City Stadium. On 3 minutes, South Korea almost scored after a well-worked move up the right flank, but they could not convert the criss due to resolute defending by Ghana. Son Heung-Min then broke up the left flank; he took the free kick himself and played the ball square; unfortunately, the rehearsed move broke down but it resulted in a corner for South Korea who continued to attack with their 2nd and 3rd corners in quick succession. Ghana's defence held out, though. On 17 minutes, South Korea won their 7th corner but, try as they might, they could not break down Ghana's defence. But it seemed only like a matter of time. Ghana's Lamptey then picked up the game's first yellow card in the 20th minute. On 23 minutes, Ghana went ahead against the run of play. Salisu got his foot to Crystal Palace's Jordan Ayew's free kick to get it over the line. A long wait for VAR but it was confirmed as legitimate. 1-0 to Ghana. South Korea were rattled and their midfield gave away more free kicks. On 34 minutes, Ghana went 2-0 ahead. Jordan Ayew was again the provider: Kudus evaded South Korea's defence and headed home from close range. 2-0 to Ghana. 3 minutes later, South Korea nearly equalised but Hwang's rocket of a shot was just over; anyway, the linesman signalled for off-side. South Korea continued to attack but Ghana's central defence remained solid. 5 minutes added time. HT 2-0 to Ghana. South Korea had 14 shots on goal, but none were on target. In the second half, on 52 minutes, Cho had South Korea's first real opportunity but shot straight at Ati-Zigi in Ghana's goal. On 57 minutes, South Korea did manage to get a goal back, with Cho Guesung getting onto the end of a cross by Lee on the left. 2-1 to Ghana. Within 3 minutes, South Korea were level, with Cho this time getting onto the end of Kim's cross, again from the left, despite goalkeeper Ati-Zigi getting his hands to the ball, but the header was far too powerful. 2-2! On 67 minutes, Ghana were back on the lead with Kudus slotting home a cross from the left, after team-mate Williams completely missed the ball. 3-2 to Ghana. On 74 minutes, South Korea were awarded a free kick just outside Ghana's box; they took a long time to tee it up but Lee's shot was very well saved by Ati-Zigi diving low to his left. A minute later Ghana saved a shot off the line from Kim. South Korea then made 3 substitutions in an attempt to get an equaliser with just 11 minutes of normal time left. On 83 minutes, the ball fell to Kim whose rocket of a shot was tipped over the bar. A period of players requiring treatment fir injuries and cramp, plus more substitutions, meant that the tempo dropped. South Korea won yet another corner; Son's shot was blocked as he was given no tine at all on the ball. 10 added minutes. Ati-Zigi made a point-blank save from Hwang as South Korea peppered the Ghana goal with crosses and shots but the ball would just not go in. Bodies were being put on the line by both teams, Ghana defending desperately. The tension was incredible and Lee blasted his shot over the bar. FT 3-2 for Ghana.
In the day's last match, Portugal (who beat Ghana 3-2 on their opening game) played Uruguay (who drew 0-0 with South Korea) at the Lusail Iconic Stadium. The first exchanges were lively with Portugal eager to press forward, forcing the ball wide but not afraid to use the long ball, Uruguay, playing in an almost all-white strip, were also using the long ball, bypassing their midfield. On 11 minutes, Uruguay had the first real opportunity with Giménez heading over from a corner from a move that started when Bruno Fernandes lost possession in midfield. On 15 minutes, Portugal's João Félix had a shot blocked but which bounced just narrowly over the bar. Shortly after, Christiano Ronaldo had a free kick which hit the wall and went out for a corner. On 22 minutes, he was free on the left but nobody connected with his cross. Portugal were threatening and their passing was crisp but their final balls were not accurate enough to pose a serious threat. Bruno Fernandes was central to almost everything that Portugal tried, whether pulling the strings of midfield or getting on the end of long balls; for Uruguay, Bentancur was their main man, with Edinson Cavani always looking for the ball. On 32 minutes, Bentancur went on a mazy run down the centre only for Portugal's goalkeeper, Diogo Costa, to race off his line to smother the ball. 3 minutes later, Uruguay's main man was at the centre of another move into the box, one for which there were too many Portuguese defenders to get through. Up the other end, Christiano Ronaldo controlled a long ball well with his chest but could not get in a shot. Nuno Mendes was the first person to receive a yellow card in the match for a cynical foul. On 40 minutes, Portugal's Nuno Mendes was in tears as an injury forced him from the field for the first substitution. Uruguay's Valverde was unlucky not to be carded for pulling down Bruno Fernandes a few minutes later. 3 minutes added time. HT 0-0. On 51 minutes, following a commotion when someone ran onto the pitch with a rainbow flag, Portugal had an attack that finished when João Félix shot into the side netting. 2 minutes later, Christiano Ronaldo got the first goal of the game when he got a faint touch with his head on a cross by Bruno Fernandes, beating the offside trap (shortly after, Bruno Fernandes was credited as the goalscorer as slo-mo replays show Ronaldo did not get a touch). 1-0 to Portugal. On 57 minutes, Cavani miscued a through ball after having beaten Portugal's offside trap. Núñez had an opportunity too for Uruguay but not enough to trouble Diogo Costa. The goal had opened up the game with chances aplenty at both ends, but no clear-cut chances. Both teams made substitutions, with Christiano Ronaldo leaving the field having picked up an ankle injury. On 88 minutes, Uruguay defender Giménez was adjudged to have handled the ball in the penalty box when he fell; after a long delay the referee awarded a penalty. Bruno Fernandes calmly slotted the ball home fir his 2nd goal of the evening. 2-0 for Portugal. 9 minutes of added time. Uruguay pressed forward in the vain hope of getting a goal; Bruno Fernandes could gave had a hat-trick after hitting the bottom of the upright on 88 minutes, but it was not to be. FT 2-0 to Portugal who have qualified for the knock-out phase.
The last matches in Group H will be played on Friday and will see Ghana against Uruguay, at the same time as South Korea against Portugal.
Meanwhile, today's matches will see the teams in Groups A and B in action in the first day of the last group matches. In Group A, Ecuador play Senegal at the same time that the Netherlands play Qatar. In Group B, Iran play USA at the same time that England play Wales.