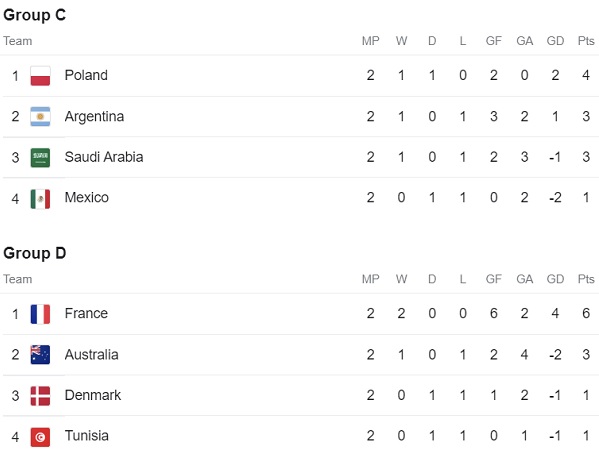 Saturday 26 November 2022 saw the second group of eight teams, from Groups C and D, play their second group matches in FIFA World Cup 2022.
One of the issues that had raised its head in recent days was that of the colours of jerseys and shorts worn by opposing teams, with one match involving teams wearing green and red being confusing to people suffering from colour blindness: as a result, Australia today would be playing in an unfamiliar dark blue when up against Tunisia in white (Australia's normal strip colour of yellow would not provide enough contrast).
Group C
Saudi Arabia (the surprise group leaders after their win over Argentina) took on Poland (who had drawn with Mexico) at the Education City Stadium, with the Saudis knowing that a win would see them as the first team through to the knock-out stages.; even a draw would put them in a strong position. Poland knew that they needed a win to keep their hopes alive. So this promised to be an entertaining match with both sides committed to attack. Saudi Arabia had most of the early possession but Poland were pushing hard to get the ball back. On 23 minutes, Saudi Arabia almost took the lead from a strong shot by Kanno after a break down the right, only to be thwarted by a wonderful save by Poland's goalkeeper, Szczesny. The referee started to brandish yellow cards, with a couple of Poland's players receiving yellow cards in quick succession, shortly followed by a third. (Saudi Arabia picked up 2 cards too). On 25 minutes, Poland almost got the breakthrough when Bielik had a powerful header cleared off the Saudi line. Saudi Arabia have come a long way since their previous tournament experiences - 4 years ago they lost 5-0 to Russia in their opening game; they have also suffered heavier defeats. But now they were playing possession-based football, with Poland (with Lewandowski) playing catch-up. However, on 39 minutes, totally against the run of play, Poland went ahead: it appeared that Lewandowski had missed a golden opportunity, but team-mate Zielinski reacted quickly and hit the rebound into the back of the net. 1-0 to Poland. Within an instant the pendulum had swung the other way and Poland appeared to be more in control. Saudi Arabia called for a penalty and VAR flagged it with the referee overturning his original decision and awarded a penalty to Saudi Arabia. Al Dawsari took it but Szczesny saved it! And Al Burayk blasted the rebound over the bar. The crowd groaned… 10 minutes of added time announced. Saudi Arabia were not giving up and continued to press. HT 1-0 to Poland. Saudi Arabia had been 1-0 down to Argentina at half-time: could they pull a similar rabbit out of the hat here? They made a couple of tactical / positional changes after the break. Saudi Arabia were working the left flank. On 54 minutes there was a massive goalmouth scramble in Poland's box but Saudi Arabia could not put the ball in the back of the net. 3 minutes later, Poland broke but could not convert the opportunity. On 59 minutes Al Brikan was through but blasted the ball over the bar; less than a minute later, Saudi Arabia missed another opportunity when Kanno missed the goal. On 62 minutes, Poland substituted their goalscorer; almost immediately, Milik headed against the bar. The game had really opened up. On 65 minutes they hit the post again, this time Lewandowski. The referee awarded a free kick to Saudi Arabia just outside Poland's box but Bahbri hit it straight into the wall. Then Al Dawsari forced a great save from Szczesny. And on 78 minutes Al Shehri missed a great opportunity to level the scores when his left-footed strike curled wide of the upright. On 81 minutes, Lewandowski broke Saudi hearts when slotting home his side's second after a bad mistake by Al Wahbi Al Malki in the Saudi defence. 2-0 for Poland. With 5 minutes remaining, Saudi Arabia made 2 more substitutions to try and pull a goal back. On 89 minutes Lewandowski was in on goal again but his attempt was saved. 7 minutes of added time announced. Try as they might, Saudi Arabia could not find a way through. FT 2-0 to Poland; their campaign was now back on track and Saudi Arabia are still in with a shout of qualifying from the group.
In the day's late match, Argentina faced Mexico at the Lusail Iconic Stadium, where the World Cup Final will be held, with Argentina facing an ignominious exit from the tournament should they lose after their surprising defeat to Saudi Arabia on Tuesday. Mexico, meanwhile, drew 0-0 with Poland in their opening game. The atmosphere in the stadium was electric and the noise levels were deafening. Argentina (with 5 changes from the first game) enjoyed most of the early possession but found it difficult to get out of their own half. It was not until after the 20th minute until Argentina has their first real foray into the Mexican half and posed a threat. The match was by now being played primarily in the middle third of the pitch with Argentina gradually gaining more possession and were building from the back. Mexico's midfield was proving resolute, however, and their tackling was uncompromising. On 33 minutes, Argentina had a free kick on the right, outside the Mexican box, but Messi's shot was stopped by the goalkeeper, Ochoa. 5 minutes later, Argentina had another attack but the through ball was overhit. On 43 minutes, Mexico were awarded a free kick just outside Argentina's box. Vega's powerful strike was very well hit but drew a good save from Martínez. 5 minutes of added time announced. On 49 minutes had another attempt, from long range, but his shot was off target. A minute later Argentina were on the attack and Montes blocked a cross to concede a corner. HT 0-0. Argentina needed a goal in the second half, otherwise their World Cup dreams were evaporating fast. After half-time, many seats were visibly empty as many spectators only returned after the second half had started. Argentina started the half with most of the possession but Mexico were ready to pounce. Messi was brought down just outside Mexico's box which earned substitute Gutiérrez a yellow card. Messi took the free kick himself but his shot was far too high. On 59 minutes, Mexico had a free kick but nobody connected with the ball into the box. On 63 minutes, Messi broke the deadlock with a powerful strike from outside the box into the back of the Mexican goal, into the bottom corner, beyond the reach of the outstretched Ochoa. The noise almost ripped the roof off the stadium as the crowd erupted. 1-0 to Argentina. Mexico now needed to score and combined well on the right but could not get in a cross; they were throwing players forward and were challenging every ball. Argentina latched onto a loose pass and were almost in for a second goal but Mexico's defence came to the rescue. 5 minutes remaining and Mexico win a corner but wasted the opportunity. Up the other end, substitute Fernández curled in a shot which beat Ochoa. 2-0 to Argentina. The game was now as good as won and their World Cup dream was back on track, and Mexico's was in tatters. 6 minutes added time. Mexico attacked but each foray was repelled, some by last-gasp, desperate defending. FT 2-0 to Argentina.
The last matches in Group C will be played on Wednesday and will see Poland against Argentina, at the same time as Saudi Arabia against Mexico.
Group D
Tunisia played Australia in the day's early match at the Al Janoub Stadium, with both teams making one change each from the line-ups in their opening games. With Australia losing their opening match and Tunisia drawing theirs, both teams knew that they needed to win today's match. Tunisia went into the game with 9 clean sheets in their last 10 games. Interestingly, all seats seemed to be occupied at kick-off. Australia had the most possession in the opening exchanges and put the Tunisians under sustained pressure with a number of crosses delivered into the North Africans' box. Whenever Tunisia did manage to get the ball, they could not hold onto it; however, their defence was holding strong. On 18 minutes, Tunisia did gave an opportunity with their first real counter-attack following a break down the right, but the Australian defence stood firm under their first test. The stadium was full of noise with both sets of supporters very vocal, as well as being very colourful with swathes of red and yellow on all sides. Then, on a counter-attack on 22 minutes, almost exactly one quarter of the way through the game, Australia were ahead thanks to a sublime header from Mitchell Duke who latched onto a deflected cross by Goodwin. 1-0 to the Socceroos from Australia who fully deserved their lead. The big question now was whether Australia could maintain this pressure, work rate and physical commitment? Tunisia started to see more of the ball but they struggled to find any rhythm which they had in abundance when playing Denmark on their first match. On 39 minutes Australia had a great opportunity to double their lead only for the Tunisian defender Talbi making a great last-ditch tackle in the box. Almost immediately, a similar incident in the Australian box saw Rowles make an almost-identical tackle to deny Tunisia an equaliser. The game had opened up and Duke had another header, this one easily saved by Dahnen, Tunisia's goalkeeper. 5 minutes added time. On 47 minutes Tunisia had a strong attack only for Msakni to blast the ball wide. HT 1-0 to Australia. Tunisia started the second half on the front foot and appeared to be more confident; now it was Australia's turn to rely on counter-attacks. With just under half an hour of normal time left on the clock, Australia made their first two substitutions, with the goalscorer, Duke, one of those to leave the field. Tunisia then started to deploy their substitutes too with Khazri replacing Laidouni. The match had started to become scrappy with the ball bobbling around midfield, and the referee seemed to be blowing his whistle for every infringement, no matter how minor. Suddenly, out of nowhere, Australia could have had a second goal, but Tunisia were let off the hook when Leckie could not connect with a ball crossed by Maclaren. Down the other end, Tunisia started to stretch the Australian defence. And Tunisia deployed a couple more substitutes in an attempt to change things. 15 minutes left of normal time. 10 minutes left. Tunisia were now starting to rely on long balls. Soutter booted the ball out for a Tunisian corner which cane to nothing. With 5 minutes left, Australia made 2 more substitutions. Suddenly Tunisia had a break, one-on-one, but Soutter put in a superb tackle to stifle the attack. Pandemonium in the Australian box as Tunisia tried everything; Soutter slipped but Ryan in the Australian goal saved well. Tunisia were throwing everything forward; Australia were defending desperately. 6 minutes added time announced. Australia were awarded a free kick on the half-way line as Tunisia's frustrations started to overflow. 1 minute left. FT 1-0 to Australia; they hang on for the win and keep their tournament hopes alive. Graham Arnold, Australia's coach, was overjoyed, as were all the team and squad members.
France played Denmark at the Stadium 964 which does not have air-conditioning on the pitch for players. France had a convincing win over Australia in their first game, while Denmark had a scoreless draw with Tunisia. When the two teams met in Russia 4 years ago, the match finished scoreless. France had a great opportunity in the 10th minute when a break down the left saw Griezmann send a great cross into the box which was defended well; a minute later, Denmark had a great attack themselves but could not muster a shot on goal. This was an example of the opening exchanges where both teams were trying to impose their rhythm and style of play. On 19 minutes, Mbappe had a strong run down the centre to get on the end of a long ball, but was pulled down for which Denmark's Christensen was yellow carded. From the ensuing free kick, Denmark's goalkeeper, Kasper Schmeichel, tipped the shot onto the crossbar. By this stage of the match, both teams were enjoying equal possession and there was little to set the teams apart, although France seemed to pose a more dangerous threat in front of goal.m, particularly Mbappe whose speed was causing the Danish defence problems. On 32 minutes France had another chance with the ball bobbling the Danish box, but it would not fall kindly. Just before that, Schmeichel saved with his feet from Griezmann. France were starting to impose their superiority but Denmark also went close with Cornelius blasting the ball wide. Giroud then had a header which was just wide of the upright. And Denmark's Christensen nutmegged a French defender but shot wide. Then Mbappe shot over the post following a pull-back by Dembélé. France's Koundé then received a yellow card for a hard tackle on Denmark's Nelsson. 3 minutes of added time announced. HT 0-0. Denmark had the first chance of the second half but could not get a shot on target. On 51 minutes, Denmark had a corner but the French goalkeeper Lloris saved comfortably. 5 minutes later, Mbappe broke through the centre and shot straight at Schmeichel. And on 59 minutes Griezmann shoots over when running goalwards. A minute later and France had the breakthrough when Mbappe fired home from an assist by Hernández. 1-0 to France. Denmark had half an hour to find an equaliser. On 66 minutes they nearly had it following a goalmouth scramble in the French box; from the resulting corner they did as Christensen headed into the back of the net. 1-1. France were looking fragile as Denmark surged forward and Lloris saved a point-blank shot. Then Eriksen tried a shot from outside the box but it was blocked. Cue a double substitution by France who, shortly afterwards, had a few corners in succession with Rabiot missing with a spectacular scissors kick. Down the other end, Braithwaite hit the outside of the post. On 85 minutes, France had restored their lead as Kylian Mbappe beat the Danish defence to turn in a pin-point cross from Antoine Griezmann. 2-1 to France. Will Denmark have time to again find an equaliser? 6 minutes added time announced. Denmark threw everyone forward but they could not find a way through. FT 2-1 and France become the first to assure qualification to the knock-out phase. Denmark must win their last match to qualify.
The last matches in Group D will be played on Wednesday and will see Tunisia against France, at the same time as Australia against Denmark.
Meanwhile, today's matches will see the teams in Groups E and F in action. In Group E, Japan play Costa Rica and Spain play Germany. In Group F, Belgium play Morocco and Croatia play Canada.