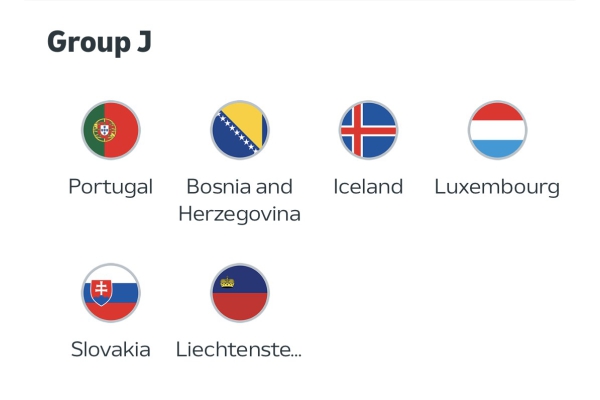 Following the qualifying draw for the EURO 2024 European Football Championships on Sunday 9 October, the schedule of the qualifying games has been confirmed.
Luxembourg, in Pot 4, was drawn in Group J along with Portugal, Bosnia and Herzegovina, Iceland, Slovakia and Liechtenstein, with the top two teams to qualify automatically and the 3rd placed team eligible for a play-off spot. If the teams were to finish according to their FIFA world rankings, Luxembourg would finish 4th, so anything ahead of that would be a massive achievement.
The Red Lions are on somewhat of a hot streak at the moment, having finished second in their UEFA Nations League campaign, with only a late equaliser scored by Turkey in the penultimate game preventing Luxembourg from topping the group.
The qualifying games are being played over a series of international breaks from national leagues, starting in March next year.
Luxembourg's fixtures (home games to be played at the Stade de Luxembourg):
23 Mar 2023 @ 20:45: Slovakia - Luxembourg
26 Mar 2023 @ 20:45: Portugal - Luxembourg
17 Jun 2023 @ 15:00: Luxembourg-Liechtenstein
20 Jun 2023 @ 20:45: Bosnia - Luxembourg
8 Sep 2023 @ 20:45: Luxembourg - Iceland
11 Sep 2023 @ 20:45: Portugal - Luxembourg
13 Oct 2023 @ 20:45: Iceland - Luxembourg
16 Oct 2023 @ 20:45: Luxembourg - Slovakia
16 Nov 2023 @ 20:45: Luxembourg - Bosnia
19 Nov 2023 @ 20:45: Liechtenstein - Luxembourg
Apart from Portugal - who remain amongst Europe's elite footballing nations - Luxembourg's top challengers for one of the two coveted automatic qualifying spots include two former EUROs participating nations, Iceland (once) and Slovakia (twice).
The EURO 2024 tournament will take place from 14 June 2024 to 14 July 2024 in Germany, with the Olympics Stadium in Berlin set to host the final.