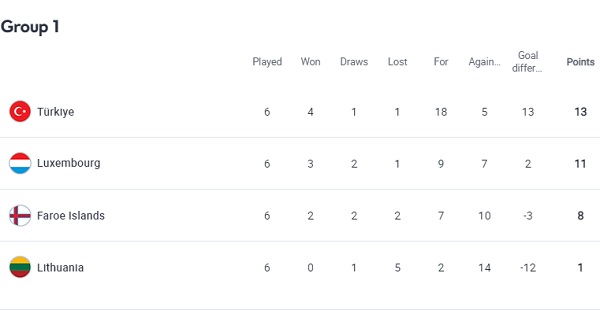 In this current international football window, the final games were played in the 2022-23 UEFA Nations League.
With Croatia, Spain, Italy and the Netherlands winning their respective groups in League A, they will contest the semi-finals and final in June next year.
However, it was Luxembourg's participation that piqued most of the local interest here in the Grand Duchy. While Luxembourg had managed a credible 3-3 draw away to Turkey just three days earlier, the Red Lions played their last game in League C, Group 1, on Sunday 25 September 2022.
Playing at home at the Stade de Luxembourg, the game was decided by a lone goal, from Gerson Rodrigues (assist by Barreiro) just two minutes before the end of normal time, for Luxembourg to finish 3rd in their group of four.
There were seven minutes of added time allowed by the referee, during which time the home crowd became increasingly nervous, but eventually celebrated the three points when the final whistle sounded.
Luxembourg had 55% of the possession and enjoyed 12 shots on goal (compared to 10 for the visitors), with both sides collecting five yellow cards apiece in what was a tetchy affair.
Luxembourg finished their campaign on 11 points courtesy of three wins and two draws from their six matches, and finished second to Turkey (13 points), with the Faroe Islands 3rd on 8 points and Lithuania with just the one point to show for their six matches.
The finishing order was a true reflection of the football rankings, with Turkey in 42nd position, Luxembourg in 93rd, the Faroe Islands in 125th and Lithuania in 142nd. Maybe it was Luxembourg's 3-3 away daw in Turkey that was the most memorable and heartening result, with Luxembourg taking the lead on three separate occasions, only to be pegged back each time; only for Turkey's 87th minute equaliser, Luxembourg would have won the group.
Luxembourg will play two friendly games in November, in the build up to the FIFA World cup in Qatar which kicks off on 20 November, against Hungary on Thursday 17 November 2022 at 20:00, and three days later, against Bulgaria on Sunday 20 November 2022 at 12:00, both at home. For tickets, see https://www.stadedeluxembourg.lu/en.
Luxembourg: Moris (GK), Jana, Martins, Chanot, Pinto, Barreiro, S. Thill, V. Thill, Borges Sanches, Sinani, Rodrigues.