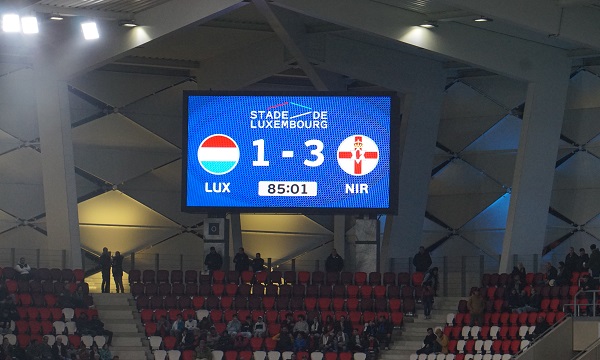 Credit: Jazmin Campbell
Luxembourg's senior men's football team played an international friendly against Northern Ireland at the Stade de Luxembourg on Friday evening; Chronicle.lu got the opportunity to watch the match live.
Organised by the Luxembourg Football Federation (Fédération Luxembourgeoise de Football - FLF), the match drew in a total of 4,540 spectators (just under half of the new stadium's 9,471-seat capacity).
The evening began with the traditional playing of both team's national anthems ("God Save the Queen" represented Northern Ireland, whilst Luxembourg's national anthem "Ons Heemecht" represented the Red Lions), followed by kick-off at 20:15.
In their first game at their new venue since the 0-3 home defeat by the Republic of Ireland in a FIFA World Cup qualifier, Luxembourg lost again with a final score of 1-3, but it was not a facile victory. The teams were fairly evenly matched, even if the Green and White Army (Northern Ireland) ultimately emerged victorious once again; the two teams had last met in a friendly at Windsor Park in Belfast in September 2019, with Luxembourg losing 1-0 courtesy of an own goal by Kevin Malget.
This time, it was striker #21 Josh Magennis who scored the opening goal for Northern Ireland in the 16th minute. However, Luxembourg's slightly greater ball possession paid off in the second half, with midfielder #22 Marvin Martins equalising for the hosts in the 58th minute.
Things really heated up in the last fifteen minutes or so, with Northern Ireland scoring two late goals in quick succession: midfielder #8 Steven Davis (who replaced midfielder #15 Jordan Thompson in the 63rd minute) scored the first in the 85th minute, followed less than two minutes later by a second goal by substitute midfielder #18 Gavin Whyte. Despite three minutes' additional time, the Red Lions were unable to catch up with the Green and White Army.
There were a few missed chances (and fouls) as well as impressive saves from the goalkeepers on both sides but ultimately the match was fair and the crowd was lively but civil, with a small but passionate Northern Ireland crowd dressed in green chanting "Olé", banging drums and cheering throughout the match. Similarly, the home crowd waved flags, cheered, sang and clapped along. In the current context of the Russia-Ukraine war, there were also banners that read "Stop War" and "Support Ukraine".
The final statistics showed that Luxembourg had 56% of possession and six of their sixteen shots on goal were on target, compared to eight out of thirteen for Northern Ireland.
Northern Ireland are now three games unbeaten under boss Ian Baraclough and will play Hungary in Belfast next Tuesday evening as part of their Nations League preparations (those matches will be in June 2022). That same evening, Luxembourg will be away to Bosnia Herzovegenia in another friendly.
Luxembourg Starting XI: #1 Anthony Moris; #2 Maxime Chanot; #8 Christopher Martins; #9 Danel Sinani; #10 Gerson Rodrigues; #13 Dirk Carlson; #15 Olivier Thill; #16 Leandro Barreiro; #17 Mica Pinto; #18 Laurent Jans (C); #22 Marvin Martins.
Northern Ireland Starting XI: #1 Conor Hazard; #2 Tom Flanagan; #5 Jonny Evans (c); #20 Craig Cathcart; #14 Stuart Dallas; #13 Corry Evans; #15 Jordan Thompson; #6 George Saville; #11 Shane Ferguson; #9 Shayne Lavery; #21 Josh Magennis.