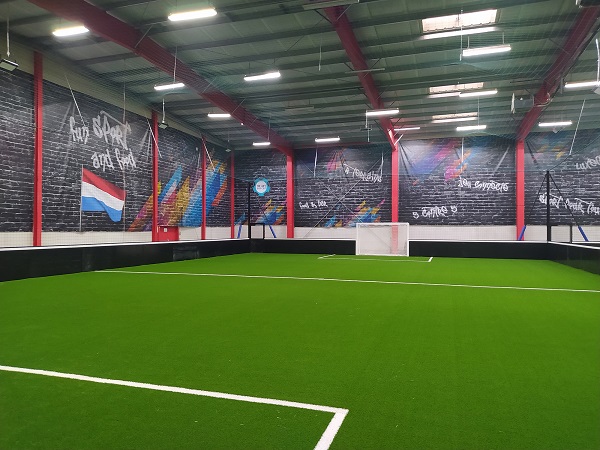 Credit: The Loft
Luxembourg's first five-a-side indoor football complex is set to open in Contern on 13 June 2021.
To allow individuals, companies, schools and football clubs in Luxembourg to practise football in all conditions and all year round, a 4,000 m2 complex (including 2,200 m2 of covered synthetic pitches) will be accessible later this month. This structure, called "The Loft", also includes two lounge areas, a bar and a restaurant.
Playing a game of football on a covered pitch, without being affiliated with a club, was until now impossible in Luxembourg. The Loft is designed to fill this gap, as the first indoor complex dedicated to five-a-side football in Luxembourg.
"Being a football fan myself, I realised that you had to go to a neighbouring country to be able to practise this sport in good conditions," explained Julien Proia, founder of The Loft. "So I thought for a long time about creating a complex that fills this void and I finally found the appropriate site in Contern".
Within this 4,000 m2 space, Julien Proia has chosen to set up not futsal but five-a-side football pitches. The founder specified: "Four fields of 28 by 18 metres have been developed. Unlike indoor football, it is a synthetic grass surface without infill, ideal for playing football and which offers sensations similar to those we know on real ground. The courts are surrounded by panels on which the ball can bounce. An exit is only called if the ball touches the nets placed above the panels. However, participants are free to adapt the rules".
To offer an additional dimension to the experience offered within The Loft, many technological tools are made available to players. Firstly, the matches are filmed and the video clips can be shared, for example on social networks. In addition, connected wristbands and balls are available, in order to obtain a host of statistics on the game and on the performance of each player. "These options have been designed in particular to take the experience further and to allow players to challenge each other. The Luxembourg clubs of BGL which have already been able to tread and test these facilities will be present throughout the year to train in good conditions, particularly during periods of bad weather. They will thus be able to work on technique and cardio in an ideal setting", added Julien Proia.
However, The Loft is not only about football. The space also includes a restaurant run by a former Michelin-starred chef, who offers a tailor-made menu. A 200 m2 lounge nicknamed "The Loft Jungle", a VIP lounge, as well as a bar-brasserie area and a terrace fitted out for the summer complete the offer.
The Loft has been designed and fitted out to accommodate private and professional events with a tailor-made service.
Moreover, from this summer, The Loft will broadcast all matches of the UEFA European Championship. Tournaments, entertainment and themed evenings will spice up this popular football event.
The Loft is sponsored by Bosnian professional footballer Miralem Pjanic. Other stars are expected to soon tread on its synthetic lawns during various events that remain secret at present. For young footballers, courses organised by the coaches of big clubs like Valencia, Juventus, AC Milan and Porto have already been booked until 2022.
In addition to this first site in Contern, a new site is expected to open in the city centre (Route d'Arlon) in September 2021 and others could follow, particularly a site dedicated to paddleboarding.
The Loft, located at 7 Rue Edmond Reuter in Contern, will be fully accessible from 13 June 2021. As in the hospitality sector, rapid antigen self-tests (for COVID-19) will be available on site to ensure that everyone can indulge their passion with confidence.
Further information is available online at the-loft.lu.