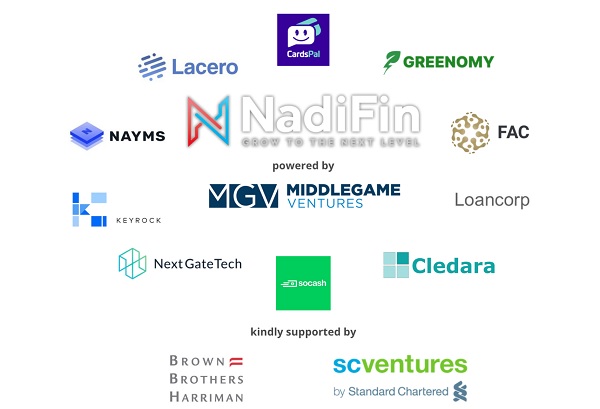 After receiving more than 120 applications from around the globe, the Luxembourg-based NadiFin Fintech Accelerator Program, powered by MiddleGame Ventures, announced today its latest cohort of ten early stage fintech companies.
Ten of the most promising Fintech companies from around the world will convene virtually this autumn in specially designed online workshops spanning two full weeks of instruction and one-on-one engagement with mentors, investors and other startups.
Pascal Bouvier, Managing Partner of MiddleGame Ventures, noted: "We believe that NadiFin is an evolution for accelerator programs. First, it is investor-led and incumbent driven. Second, the peer-to-peer focus of the programme is ideal for a startup team to fully digest and implement the curriculum. MiddleGame Ventures is delighted to build on the success of the 2019 programme and welcome the second NadiFin cohort".
NadiFin features a bespoke curriculum to prepare entrepreneurs for scaling their businesses for profitable growth. The programme is built from the ground up with experienced investor knowledge from MiddleGame Ventures, supplemented by key learnings from previous participants and input from financial services partners, including programme sponsors Brown Brothers Harriman (BBH) and Standard Chartered (SC).
BBH's Head of Digital and Data Services, Joshua Fine, commented: "We are excited to be part of the NadiFin incubator event again this year. Building connections with others in the ecosystem in support of our common clients is critical – we all need to be flexible, adaptable and forward-thinking".
"While this type of interactive learning and mentoring is always valuable, in the current economic environment start-ups will be greatly challenged and ensuring that strong solutions for real problems do not fall to the wayside is critical", stated Dominic Maffei, SC Ventures Lead FM & UK.
The cohort will be immersed in a curriculum which integrates mentors, speakers, investors and peers to help the companies grow to the next level across all of their key strategic vectors (i.e. value proposition, team, business model mapping, fund-raising, etc). The cohort will compete in a trademarked peer-voting startup accelerator curriculum (powered by Village Capital), where participants rate the value proposition across key venture readiness metrics, leading to a €100,000 investment from MiddleGame Ventures.
Nasir Zubairi, CEO of the Luxembourg House of Financial Technology (LHoFT), explained: "Fintech is playing an even more pivotal role in the sustainability of financial institutions. We are very happy at the LHoFT to support NadiFin as it helps to develop robust fintech businesses that can make a real difference to the future of the EU's financial services sector".
2020 NadiFin Fintech Accelerator Cohort:
- CardsPal, a one-stop credit card deals discovery platform that empowers customers to maximise savings
- Cledara, a company that standardises the way companies discover, buy, manage and cancel their software as a service (SaaS)
- FAC (Fund Admin Chain), a digital funds network for launching and trading investment funds
- Greenomy, a RegTech SaaS platform enabling Europe's companies and institutional investors to comply with the EU's new Sustainable Finance standards, accelerating the transition to a carbon neutral economy
- Keyrock, a digital asset market maker that offers market making and liquidity provision services for financial markets
- Lacero, which provides policy engines for compliance, governance and control of Digital Assets and Data Objects
- Loancorp, a secure online Wholesale Banking loans platform accessible by Lenders, Bookrunner Banks and Borrowers
- Nayms, a smart contract platform for the placement, trade, reporting and settlement of insurance risk
- NextGate, a data-driven FundTech that provides innovative SaaS solutions for the asset management industry
- SoCash, a platform to connect banks to retail networks enabling cash and banking services for consumers.