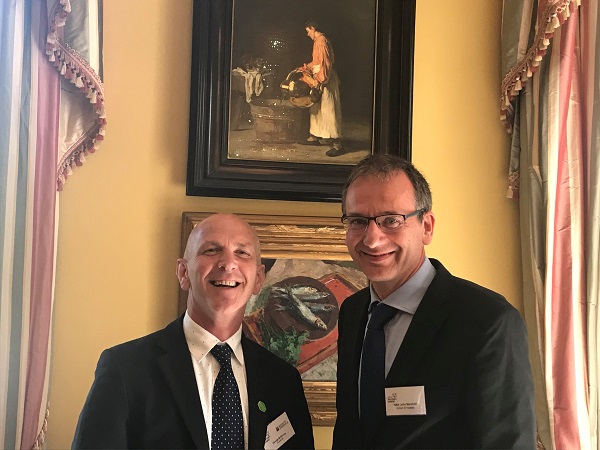 (L-R): George McKinney, Invest Northern Ireland; Ambassador John Marshall;
On Thursday 16 May 2109, the British Ambassador to Luxembourg, John Marshall, hosted a reception at his residence for Invest Northern Ireland and attended by a number of "internationalising" Northern Irish companies operating in RegTech and Compliance, representatives of which are in Luxembourg on a mission and visit programme.
Northern Ireland, a global location for financial services, offers a combination of talent and cost-effectiveness and has a track record of innovation in areas such as analytics, blockchain and capital markets; it has become a hub for regulatory, FinCrime and compliance solutions, supporting financial services institutions across the world.
The Northern Irish companies visiting Luxembourg included Audit Comply, Datactics, ESTERA, fscom, Funds-Axis, McGinnis Consulting and Vox Financial Partners. Earlier in the day they presented their companies and services to an invited audience at the Societe Generale Securities Services in Luxembourg-gare. the presentations included compliance and RegTech solutions to manage regulatory challenges shared throughout the banking and funds industry.
At the evening's reception, Ambassador Marshall welcomed the delegation from Northern Ireland which had a productive day earlier.
He explained that the British Government purchased the residence in 1955 when the first British Ambassador arrived in Luxembourg. He also explained that some of the furniture belonged to Edward VII, with the art on the walls part of the government art collection.
George McKinney, Director of Technology and Services at Invest Northern Ireland, who addressed the morning's symposium in four languages, thanked the ambassador for his welcome and hospitality. Referring to the day's symposium, he discovered that there are a lit of similarities between Northern Ireland and Luxembourg, from geographic size to RegTech focus. He also explained to Chronicle.lu that Invest Northern Ireland both attracts foreign direct investment (FDI) and represents Northern Ireland firms in exporting their goods and services abroad.