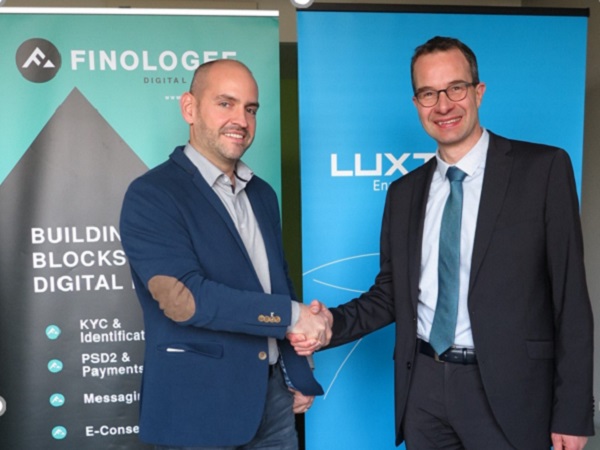 LuxTrust CEO Pascal Rogiest and Finologee CEO Raoul Mulheims; Credit: Finologee
The Luxembourg digital identity and data security provider LuxTrust and new-age FinTech specialist Finologee have signed a new collaboration offering the former's plug-and-play trust solutions to third-parties and developers through Finologee's Trusted FinTech Platform.
Through this core collaboration, LuxTrust and Finologee want to respond to market needs together combining some of their products and infrastructures in order to offer easy access to LuxTrust services, such as strong authentication, electronic signature and e-seal. These features are both integrated into Finologee's own products, such as KYC and PSD2, and made available in API mode through Finologee's own Trusted FinTech Platform.
This collaboration should translate into increased commercial opportunities for both market players, as organisations across Luxembourg will now be able to take advantage of the ease and simplicity of integrating trust services into their processes via API connectivity. This alliance also leverages Luxembourg's specific regulatory framework for financial industry service providers to which both companies are subject: LuxTrust and Finologee operate under a Luxembourg "PSF de Support" IT provider licence under the supervision of the Luxembourg financial services regulator CSSF.
Foyer Group was among the first customers to integrate a LuxTrust product in API mode via Finologee's platform; as of March 2019, Foyer's customers have been receiving certified PDF documents signed by Foyer with LuxTrust e-Seals. Thanks to Finologee's and LuxTrust's neat technical integration and optimised processes, the implementation stage was completed in less than two months from the first project meeting to production environment availability.
LuxTrust and Finologee's collaboration model is considered key in this context allowing the two companies to serve a much broader range of customers, as well as expand the scope and quality of their products.