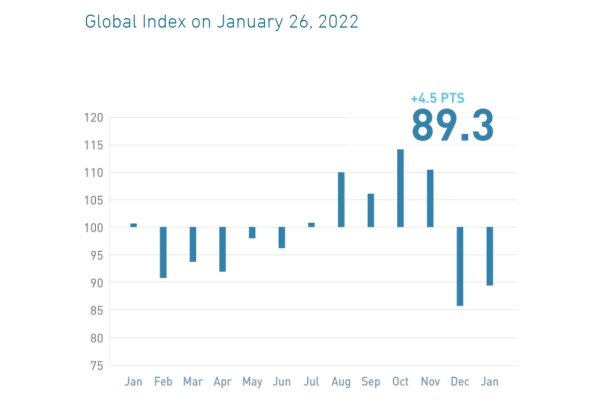 Credit: State Street
State Street Global Markets released the Global Investor Confidence Index (ICI) for January 2022 at 89.3, up 4.5 points from December's revised reading of 84.8; State Street Corporation is an American financial services company with a branch in Luxembourg.
The increase was led by a rebound in European ICI, which bounced back a significant 18.2 points from December's low to 85.3. Asian ICI rose slightly, up 1.7 points to 97.1, but was offset by a 1.4 point decline in North American ICI to 93.6.
Riccardo Lamanna, Country Head for Luxembourg at State Street, said: "Since Brexit, many large financial institutions have relocated their European hubs to European Union member states, with Luxembourg being one of the top destinations. Although this development has put local investors and the market in an optimistic mood over the past year, concerns over inflation, Fed policy tightening, and the Ukraine-Russia conflict continue to linger. While European investors' confidence has improved, it's likely that they will take a more conservative investment approach in the near future."
"Investors continued to shy away from risk assets in January as the global ICI continued to hover close to its weakest reading in over a year," commented Rajeev Bhargava, head of Investor Behavior Research, State Street Associates. "Sentiment within the United States remained subdued as an increasingly hawkish stance from the Fed, rising Covid infection rates locally due to the Omicron variant, and a disappointing start to earning season likely led to a continued reassessment of allocations away from higher beta assets. On a more positive tone, investor confidence across Europe recovered a bit as the regional ICI rose 18 points from December's reading. Absolute levels, however, still remain consistent with risk averse behavior, so it will be important to see if momentum continues to build."