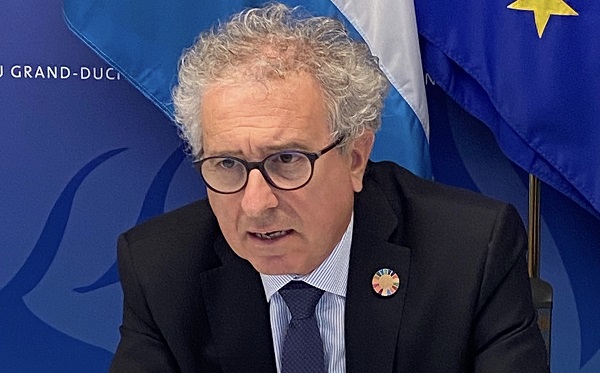 Pierre Gramegna, Luxembourg's Minister of Finance; Credit: MFIN
On Monday 5 and Tuesday 6 October 2020, Luxembourg's Minister of Finance, Pierre Gramegna, participated via videoconference in the meetings of the Eurogroup and the Ecofin Council of Finance Ministers.
Over the two days, discussions mainly focussed on the modalities of the EU Recovery and Resilience Facility and on how to develop the various national recovery plans to support the dual green and digital transition of the single market.
Minister Pierre Gramegna commented: "Faced with this persistent pandemic, our efforts must focus on supporting employment and maintaining quality investments in order to improve competitiveness and achieve the dual green and digital transition. Let's rebuild post-COVID Europe for the better!" He added: "It is imperative that the reform and investment efforts supported through the Recovery and Resilience Facility focus on those having a lasting impact on our economies".
During Ecofin, the 27 finance ministers discussed the strategy presented by the Commission for Digital Finance, which aims to remove the barriers that persist in the digital single market for financial services and therefore facilitate the creation of a true common digital space. Minister Pierre Gramegna noted: "This package is of major interest for Europe and Luxembourg, which has demonstrated a pioneering approach to the regulation of crypto-assets. This plan will help considerably to strengthen the continent's competitiveness in the area of ​​financial services and electronic payments in the long term. At the same time, Europe must ensure that a common and balanced regulatory framework is put in place, conducive to innovation but sufficiently protective to guarantee consumer confidence".
The finance ministers also took stock of the European Semester and the deepening of the Capital Markets Union.
The Eurogroup ministers concluded by supporting the candidacy of the Netherlands' Frank Elderson for the post of member of the executive board of the European Central Bank (ECB), replacing Yves Mersch from mid-December.