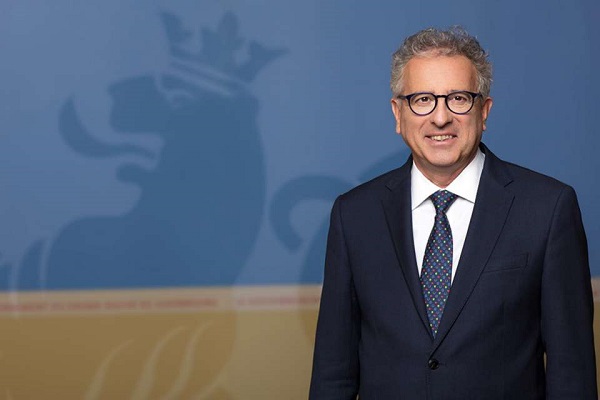 Pierre Gramegna, Luxembourg's Minister of Finance; Credit: SIP / Yves Kortum
Luxembourg's central government has recorded a surplus of €60 million.
On Tuesday 29 September 2020, Luxembourg's Minister of Finance, Pierre Gramegna, tabled in the Chamber of Deputies the bill on the settlement of the general account for the 2019 financial year. The general account is the annual financial year which makes it possible to compare the budget voted by the Chamber of Deputies with the actual budget execution during the year in question.
According to the accounting principles of the 1999 law on state accounting, the general account for 2019, excluding financial transactions, closed with a deficit of € -128.8 million. This corresponds to an improvement of around €686.5 million compared to the voted budget, which indicated a deficit of € -815.3 million. This improvement is mainly due to a significant increase in tax revenues, so that revenues exceed by 4.87% the amount estimated in the voted budget. In terms of expenditure, budget execution was in line with the level provided for in the voted budget, with a difference of only 0.71%.
The presentation of the general account according to the European accounting standard SEC2010, showed a surplus balance of the central government of € +60 million. Compared to the balance of € -650 million forecast in the voted budget, this is a difference of €710 million. These results confirm the trend observed according to the accounting principles of the 1999 law and underline the validity of the budgetary management carried out in recent years.
Finance Minister Pierre Gramegna commented: "At the start of 2020, the state accounts were close to balance and the budgetary situation healthy. It is thanks to this favourable starting situation that we were able to react quickly and deploy all the necessary measures to stabilize the economy during the COVID-19 pandemic. It is also in this spirit that I will present in less than three weeks the draft State budget for the 2021 financial year, through which the government will pursue its policy of stabilising and reviving the economy".