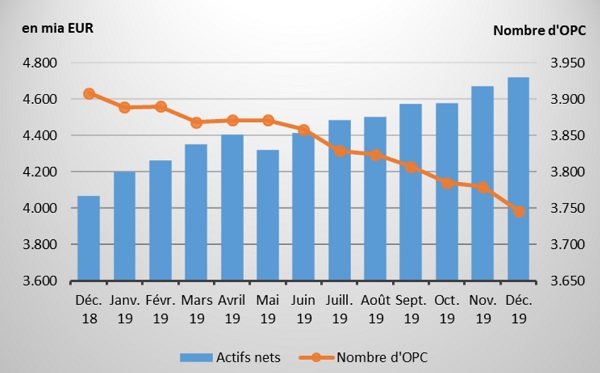 Credit: CSSF
The Commission de Surveillance du Secteur Financier (CSSF) has announced that the Luxembourg undertakings for collective investment (UCI) industry recorded a positive change amounting to €49.213 billion in the month of December 2019.
As of 31 December 2019, the aggregate net assets of global UCIs amounted to €4.718.914 billion as opposed to €4.669.701 billion the previous month, representing an increase of 1.05% over one month. Over the last twelve months, the volume of net assets increased by 16.10%.
For its part, the Luxembourg UCI industry industry posted a positive change in the month of December amounting to €49.213 billion. This increase represents the balance of positive net issues up to €27.212 billion (+0.58%) and the favourable financial market developments of €22.001 billion (+0.47%).