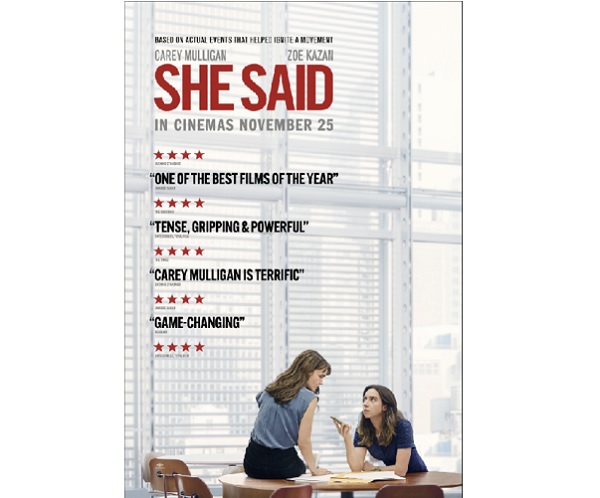 Directed by Maria Schrader (I'm Your Man; Unorthodox) and starring Carey Mulligan (Never let me go; Sufragette; Promising Young Woman; the Dig), Zoe Kazan (The Ballad of Buster Scruggs; The Big Sick), Jennifer Ehle (Zero Dark Thirty; Little Men; Fifty Shades Freed) and Angela Yeoh (The Batman; The Baby).

Drama; 129 mins; 12+

Based on the book by Jodi Kantor and Megan Twohey, which itself was based on the New York Times investigation by them both, and adapted by Rebecca Lenkiewicz (screenplay).

New York Times reporters Megan Twohey (Carey Mulligan) and Jodi Kantor (Zoe Kazan) break one of the most important stories in a generation - a story that helped ignite a movement and shattered decades of silence around the subject of sexual assault in Hollywood.

They started to uncover many instances of sexual assault, including emotional distress, rape, non-disclosure agreements and settlements, and much more, concerning goings-on at Miramax, the film production company headed by "movie mogul" Harvey Weinstein.

By developing the two lead characters by showing that they both had personal lives and were at different stages of rearing a family, it also brings across how deeply affected two both were too. Both reporters play by the rules and will not mention anyone's names without their specific consent. And that is after agreeing to talk with reporters in the first place. People like Rowena Chiu (Angela Yeoh) and Laura Madden (Jennifer Ehle) ... ans many more.

They involve their bosses at all stages of their investigation and discover that some of the women involved have not told anybody about what they went through.

A very powerful two hours of cinema, without being emotional, it follows the two reporters and how their objectivity and professionalism made for a riveting tale of uncovering what had been accepted behaviour at one stage into changing attitudes both in and outside the workplace. It treats the very delicate issues with deep sensitivity; however, it does not (really) focus on the enablers and those who covered for Weinstein.

This is a drama, so some of the scenes are fictional, but they use real names throughout. There have been documentaries on this and related topics; She Said is bold, accurate and thought-provoking.

Interestingly, the film was shot in the real New York Times building and was the first ever to use the real offices in scenes.

In the closing credits, Harvey Weinstein's 23-year jail sentence from 2020 was mentioned, as was the fact that other law suits are also pending.

Currently being screened in Luxembourg at Kinepolis.