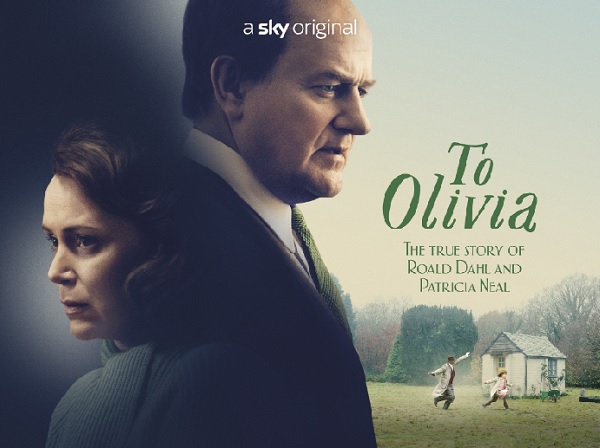 Directed by John Hay (There's Only One Jimmy Grimble; The Truth About Love; Lost Christmas) and starring Hugh Bonneville (Downton Abbey (film and tv series); Paddington; Notting Hill), Keeley Hawes (Rebecca; Ashes to Ashes (TV Series); The Durrells (TV Series)), Darcey Ewart (Click & Collect; Brave Bunnies) and Isabella Jonsson (in her first film role).
Drama; 99 mins; 6+
Based on the novel "Patricia Neal: An Unquiet Life" by Stephen Michael Shearer, "To Olivia" looks at Patricia Neal's (Keeley Hawes) marriage to renowned novelist Roald Dahl (Hugh Bonneville) much more from his perspective. Patricia Neal (1926–2010) was a star on stage, film (for which she won an Oscar), and television for more than sixty years.
Set in the early 1960s in Buckinghamshire, England, it shows the couple married with young children, she between acting roles at the top of her career, and he between writing children's novels. Their relationship is shown to be based on warmth, love and humour, as well as having its tumultuous and rocky phases. Their eldest daughter, Olivia (Darcey Ewart), falls ill and dies from measles: the storyline very much focuses on Roald Dahl's grief and self-pity, encompassed within their joint pain and suffering, and how this put an enormous strain on their marriage and his relationship with his other daughter, Tessa (Isabella Jonsson), at that difficult time in their lives.
While it would have been easy to include various anecdotes which could have inspired Roald Dahl's storytelling, the director refrains from doing so, and any such references are very subtle, almost going unnoticed. During this period he has spells at writing, but this by no means the main thrust of the story which is both sad and uplifting in equal measure.
"To Olivia" has brought out tremendous performances from Hugh Bonneville and Keely Hawes, in particular, (both mainly know for their tv roles) with her American accent belying her English roots.
Currently screening in Luxembourg at Ciné Utopia