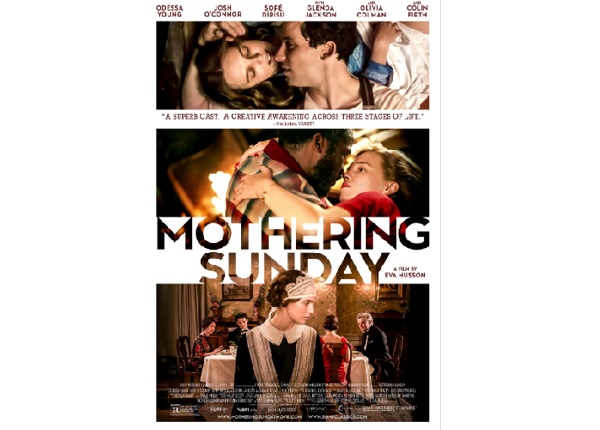 Directed by Eva Husson (Bang Gang: A Modern Love Story; Girls of the Sun) and starring Odessa Young (The Man in the Woods; Assassination Nation; The Staircase (TV Series)), Josh O'Connor (Florence Foster Jenkins; God's Own Country; Emma; The Crown (TV Series)), Colin Firth (The King's Speech; Supernova; Kingsman; Bridget Jones' Diary) and Olivia Colman (The Favourite; The Lost Daughter; The Father; Murder on the Orient Express).
Romance drama; 104 mins; 12+
Set after WWI in the 1920s in England, Jane Fairchild (Odessa Young) grew up without knowing any family at all. She entered service aged 14 years old and subsequently became the maid to Mr Godfrey Niven (Colin Firth) and Mrs Clarrie Niven (Olivia Colman) who lost their two sons in the war; being from the aristocracy, they carry the stiff upper lip, never wanting to show their emotions.
They enjoyed the company of good friends the Sheringhams and, in addition to having each other's families over for dinner parties, they met up with them for picnics along the banks of the Thames at Henley. Their son, Paul Sheringham (Josh O'Connor), a law student, falls for Jane and together they have an intimate affair. However, outward appearances were all-important in the society of the day, and Paul becomes engaged to another woman...
A melancholy, slow-burning romantic story which becomes the storyline for Jane's novel a number of years later; she had left service and got a job in a bookshop - influenced, no doubt, by the vast library in the Niven's home which included many of the classics, amongst others. The cinematography is wonderful; the full-frontal nudity is akin to that in the recent TV Series Normal People.
It is also a beautifully crafted film about loss and grief and its lasting impact, with Olivia Colman having a wonderful line towards the end - which initially comes across as crass and insensitive, yet is uttered with all the best of intentions - suggesting that Jane was better off not knowing any family since birth, after all the heartache she and her friends have experienced. Despite being a romance film, it can be argued that it is devoid of love.
A Marmite-style film; you will either love it or hate it...
Currently screening at Ciné Utopia.