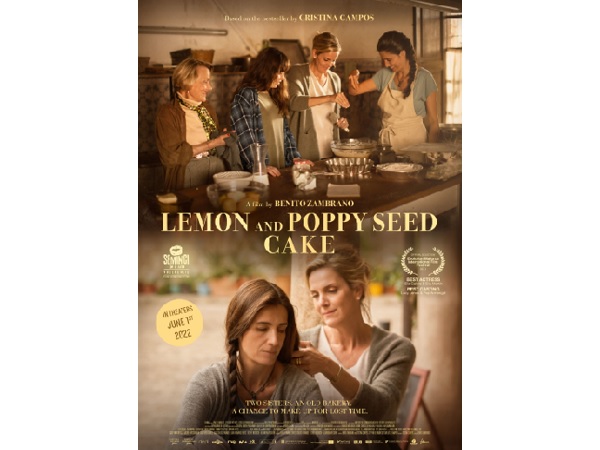 Directed by Benito Zambrano (Solas; Out in the Open; Habana Blues) and starring Elia Galera (Backseat Fighter; Hospital Central (TV Series); Acacias 38 (TV Series)), Eva Martín (Plastic Sea; The Pier (TV Series); Valeria (TV Series)), Mariona Pagès (Life Without Sara Amat; Three Days of Christmas (TV Series)) and Tommy Schlesser (Io sto bene; Une histoire provisoire; Comeback (TV Series)).
Drama; 118 mins; in Spanish & English (subtitles: FR & EN)
Based on the best-selling novel by Cristina Campos (screenplay by Benito Zambrano), Lemon and Poppy Seed Cake features Marina (Elia Galera), a gynaecologist who works for an NGO in Africa with her partner Mathias (Tommy Schlesser). Marina returns to her home town on the Spanish island of Mallorca as she and her sister have inherited a bakery from a woman about whom they know nothing.
After being estranged from her sister, Anna (Eva Martín), for many years, their relationship is strained, particularly as Anna and her husband's marriage is going through a rocky patch as they are having financial troubles. At the same time, Marina wants to settle down and have a family, but Mathias does not want to (he is much younger).
Having led different lives, Marina and Anna reconnect, and Anna's daughter Anita (Mariona Pagès), a difficult teenager, also features. They plan to sell the bakery, but Marina wants to find out more about their benefactor and decides to investigate. The two sisters have led very different lives: Anna has barely left the island and is unhappily married to a man she no longer loves, while Marina has travelled the world for her work.
As they uncover the past, they are forced to confront old family disputes and make up for lost time.
An emotional and nostalgic film with a storyline that has a number of interwoven sub-plots, mostly involving family and personal relationships; while there may be little in the way of surprises along the way, the storytelling is expertly done and the characters are believable. With most of the story unfolding on Mallorca, some scenes do take place in a hospital and an orphanage in Africa.
Well worth seeing.
A Luxembourg co-production with Deal Productions.
To be screened in Luxembourg at Ciné Utopia from 31 May 2022.