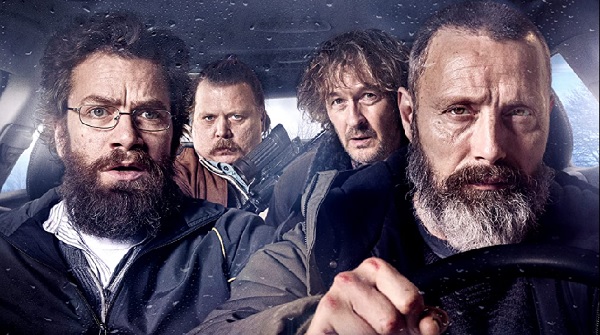 Written and directed by Anders Thomas Jensen (Men & Chicken; Adam's Apples; he also won an Oscar for Best Short Live Action Film for Valgaften and was nominated for two others) and starring Mads Mikkelsen (Doctor Strange; Another Round; Rogue One; The Hunt; The Three Musketeers; Clash of the Titans; Casino Royale; King Arthur; Hannibal (TV series)), Nikolaj Lie Kaas (Angels and Demons; Department Q: A Conspiracy of Faith; Child 44; The Shooter; At World's End; The Candidate), Nicolas Bro (At World's End; Collision; The Bridge (TV Series); The Killing / Forbrydelsen (TV Series); DNA (TV Series); Thin Ice (TV series)) and Andrea Heick Gadeberg (in her first feature film role; Pagten (TV Series)).
Action comedy; 116 mins; 16+
When Markus (Mads Mikkelsen) goes home from the military to his daughter Mathilde (Andrea Heick Gadeberg), after his wife dies in a tragic train accident, others start to believe that it may have been a carefully-planned assassination in which his wife was an unwitting victim.
A mathematics geek, Otto (Nikolaj Lie Kaas), who was also a fellow passenger on the train, shows up with his two colleagues and soon they are on the run from The Riders of Justice, a violent biker gang behind the train "accident"; another person who died on the train was about to testify against the gang. They bring in Emmenthaler (Nicolas Bro), a facial recognition expert and set up their own surveillance.
They go out looking for revenge but soon they face their "High Noon" when the gang comes looking for them with guns blazing; will the group of individuals / oddballs be able to fight their way out of trouble and stay alive? Quite Tarantino-esque at times, particularly with the gun battles and other violent episodes, with droll Nordic mannerisms to boot; it is quirky and emotional at times too, with good character development, with the central character not unlike those played by Liam Neeson in the "Taken" revenge action films.
A high-octane Nordic action film that is well worth the watch.
In Danish with subtitles (FR, DE). Currently screening at Kinepolis.