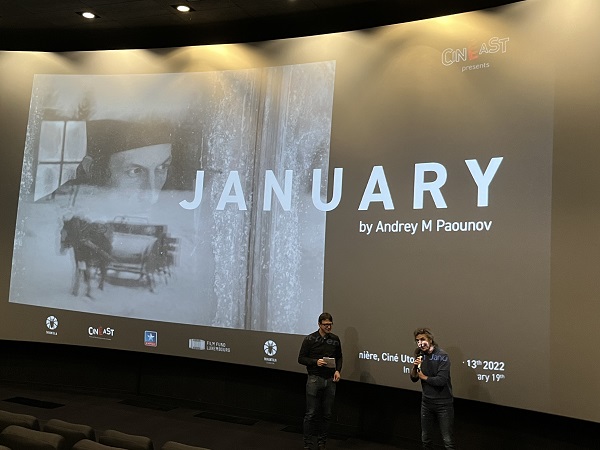 On Thursday 13 January 2022, Ciné Utopia hosted the avant-premiere of the film "January", a Luxembourg co-production, along with Tarantula Luxembourg and CinEast Presents.
Written and directed by Andrey Paounov (his first feature film; he is know for documentaries until now) and starring Samuel Finzi and Iossif Surchadzhiev.
Mystery drama; 110 mins; 12+
Filmed mostly in black and white, two characters, the porter (Samuel Finzi) and the old man (Iossif Surchadzhiev) - they are never named - are alone together in a remote building in a forest, snow-bound in January. The building appears to have both a cabin-like living quarters, where most of the drama plays out, and also an industrial part comprising a series of rooms along a dank corridor which contain tanks of lobsters.
The porter is cracking walnuts and the old man tries feebly to complete a crossword; a crow is in a cage in the room and its cackle can be heard throughout. They receive a couple of visitors, looking for a man called Petar Motorov, who the porter explains has just gone out and should be back soon. A horse pulling a snow sled comes and goes, bringing with it stuffed wolves which start to accumulate in the cabin-like living quarters.
With an atmosphere reminiscent of that in Samuel Beckett's Waiting for Godot, and scenes and images reminiscent of Stanley Kubrick's The Shining, January contains much imagery and representation.
A very interesting art-house telling of a tale which is sure to delight literary academics and the like.
Before the screening, Radek Lipka of CinEast explained that the screening was the first event of this new collaboration between CinEast and Kinepolis Luxembourg, being screened at Ciné Utopia, entitled "CinEast Presents" (like LuxFilmLab and the Luxembourg City Film Festival). He explained that the film is a co-production between Bulgaria, Luxembourg and Portugal, and remarked on it being great to see people out at a screening again. He introduced Donato Rotunno, co-producer of the film from Tarantula Luxembourg, who revealed that the film had a total budget of just under €600k and that it had finished post-production just before the first lockdown in March 2020, but had to wait until now to be released.
January has had just its world premiere in Tallinn, Estonia, and will go on general release in Luxembourg on 19 January 2022 at Ciné Utopia.