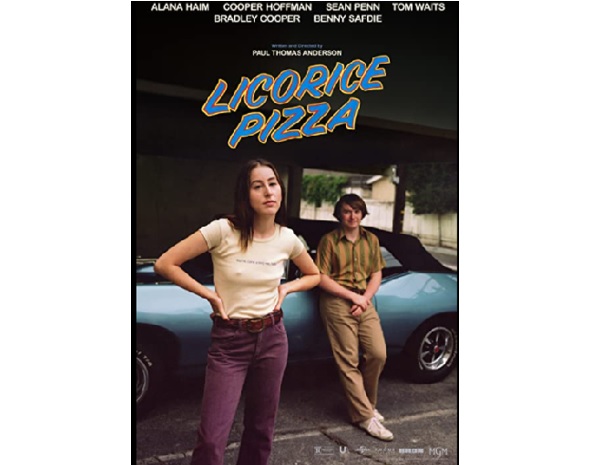 Written and directed by Paul Thomas Anderson (Phantom Thread; There Will Be Blood; Magnolia; Boogie Nights; The Master) and starring Alana Haim (her first feature role; member of the band Haim with sisters Este and Danielle), Cooper Hoffman (his first feature role), Sean Penn (Milk; Mystic River; I Am Sam; Carlito's Way; Dead Man Walking; All the King's Men; The Interpreter; Being John Malkovich), Tom Waits (The Ballad of Buster Scruggs; Seven Psychopaths; The Imaginarium of Doctor Parnassus) and Bradley Cooper (Silver Linings Playbook; A Star Is Born; Joker; American Sniper; American Hustle; The Hangover; Valentine's Day).
Comedy drama; 133 mins; 12+
This is a film dedicated to the 1970s, a kind of tribute if you like. It is set in 1973 in the San Fernando Valley in Los Angeles and features 15 year-old Gary Valentine (Cooper Hoffman), a successful child actor who is ultra confident and enterprising. Not only regarding looks, but in his geeky mannerisms, he resembles Ron Weasly (Rupert Grint) and Ed Sheeran, as well as his real-life father, Philip Seymour Hoffman.
At his school's yearbook photo session, Gary meets Alana Kane (Alana Haim) - whose sisters are her real-life sisters too, who all perform in the same (real life) band. There starts a friendship which has its continuous ups-and-downs, but one in which the audience is emotionally entwined, whether encouraging them in one direction, or fearing the worst if a certain scenario plays out on the silver screen. As Gary's (single) mother is often away for work, he looks after his younger brother but he also eats out at a restaurant regularly and knows a number of other (adult) people; Gary also .
Despite his young age, he is a man-about-town and also has an enterprising streak, not quite one though where he is trying to seek out the get-rich-quick scheme - he gets into water beds and pinball machines, using old marketing techniques of getting friends to hand out printed flyers and being mentioned on-air on a local radio station.
The pair meet a number of characters along the way, including Jack Holden (Sean Penn), Rex Blau (Tom Waits) and Jon Peters (Bradley Cooper) who are all in the entertainment business and who all have their own mannerisms, idiosyncrasies and eccentricities, bringing a complementary excitement to the screenplay which jazzes up the relatively mundane lives of Alana and Gary. But the same could be described of Marianne and Paul in Sally Rooney's Normal People; in fact, there are a lot of similarities in the stories and the couple's relationship, the prime difference being the geographic location and the decade in which they were set.
This could be great to watch in 70mm - the look and feel / cinematography brings the audience back to the 70s, in which one is transported back to a living room, an office, a store or event at a drive-through queue. The wardrobe, hairstyles, cars and much more all add to the nostalgic feel of the film.
Currently screening at Ciné Utopia.