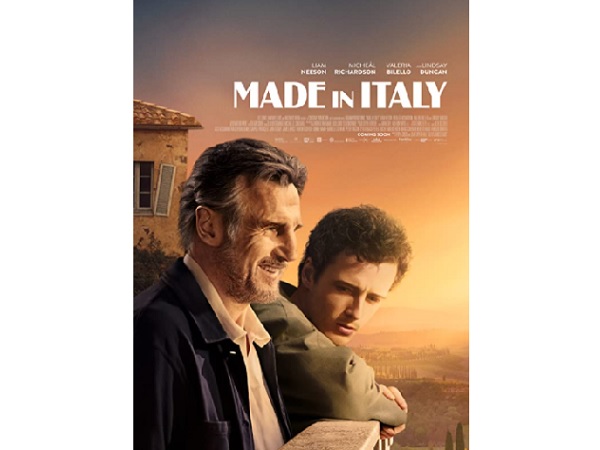 Directed by James D'Arcy (his first feature film; mainly known as an actor for Dunkirk,...) and starring Liam Neeson (Schindler's List; Michael Collins; Star Wars: Episode I - The Phantom Menace; Gangs of New York; The Grey; Taken; The Honest Thief), Micheál Richardson (Cold Pursuit; Anchorman 2: The Legend Continues; Vox Lux) and Valeria Bilello (One Chance; various tv series including Sense8).
Drama; 95 mins; children admitted.
Starting off in London, Jack (Micheál Richardson) runs his parents-in-law's art gallery; however, his wife has asked him for a divorce but he doesn't want to sign the papers, and then tells him that she has put the gallery up for sale. He pleads with her to give him a month to come up with the money...
He remembers the family's home in Tuscany in Italy, which he and his father jointly own after his (Italian) mother died in a car accident when he was eight years old. He feels his share in the sale of the house would raise enough money to buy the gallery, so he collects his father, Robert (Liam Neeson - his real-life father), and they set off for Tuscany. The pair of them have a delicate relationship - Robert is a bohemian artist who has not painted much in recent years and has not been to Jack's gallery to see his success. Also, he has not driven since his wife died.
They arrive at the house which has fallen into disrepair, not having been lived in for over 10 years. They engage an estate agent who advises them to "do it up" and they meet Natalia (Valeria Bilello) who runs a local restaurant which she herself did up over a number of years.
A gentle drama that examines relationships and also brings out the best of Tuscany, not only the splendid vista but also its food and wine. The father-and-son pairing have real chemistry together and the acting all round is sound. While the storyline may be fairly predictable, the audience is brought on a gentle voyage of discovery as the characters are developed as the story goes along, also bringing the back-story to the fore. And there are a couple of comic scenes with animals too...
Currently screening in Luxembourg at Kinepolis cinemas.