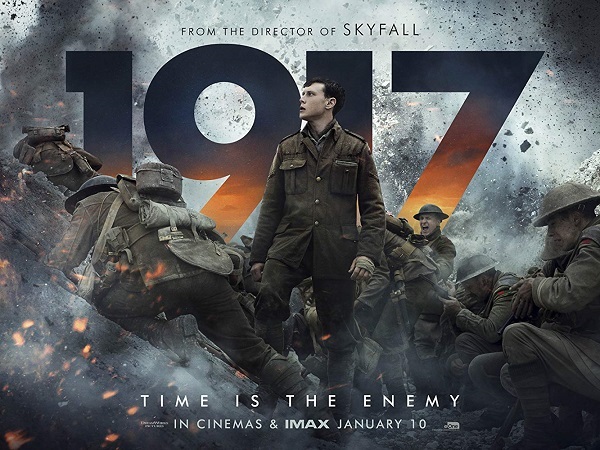 Directed by Sam Mendes (American Beauty; Revolutionary Road; Skyfall; Spectre) and starring George MacKay (True History of the Kelly Gang; Ophelia; Captain Fantastic; Pride; Sunshine on Leith; Peter Pan), Dean-Charles Chapman (Blinded by the Light; The Commuter; Before I Go to Sleep), Colin Firth (The King's Speech; A Single Man; Bridget Jones' Diary; Mary Poppins Returns; Mamma Mia! Here We Go Again; Kingsman: The Secret Service), Daniel Mays (Fisherman's Friends; Swimming with Men; The Adventures of Tintin: The Secret of the Unicorn; Made in Dagenham), Andrew Scott (Pride; Spectre; Steel Country; Swallows and Amazons; Jimmy's Hall; Sherlock (TV Series); His Dark Materials (TV Series)) and Benedict Cumberbatch (Avengers: Endgame; The Current War; The Imitation Game; The Hobbit: The Desolation of Smaug; Star Trek into Darkness; Sherlock (TV Series)).
War drama; 119 mins; 12+
Set in spring 1917 (yes, there's a clue in the title) during WWI on the Western Front, two British soldiers are tasked with leaving the relative safety of the trenches to deliver a message to an isolated regiment which war command believes may be walking into a trap which would ultimately lead to the massacre of thousands of lives.
To get there, in their race against time, Lance Corporal Schofield (George MacKay) and Lance Corporal Blake (Dean-Charles Chapman) have to go through No Man's Land, trusting that their foes have indeed retreated, find gaps in the fencing and barbed wire and negotiate craters, water and lots of mud. They must negotiate the odd sniper detached from their regiments, river crossings where the bridges have been destroyed, farm buildings and ruins where the enemy may be lurking. Along the way they meet up with a number of characters including Sergeant Sanders (Daniel Mays), General Erinmore (Colin Firth), Lieutenant Leslie (Andrew Scott), Private Bullen (Chris Walley) and Colonel MacKenzie (Benedict Cumberbatch).
What is truly astonishing about this film is that it was filmed as one shot. The result, a stunning real-time experience in which the viewer is immersed into the action from start to finish. Cinema has not seen the like of this before and readers are strongly encouraged to see this before the Oscars ceremony, to see for themselves what all the fuss is about.
If you're not normally "into" war dramas, forget your perceptions and pre-conceived ideas and just go and watch which surely will go on to be described a masterpiece in cinematography as well as being a lesson in humanity. While the horrors of trench warfare are continually brimming just below the surface, there is not much gore at all.
While the story itself isn't that deep at all, and the action takes place over the course of just one day (and night), the main characters are developed very intelligently, with different traits coming to the fore in different circumstances.
One cannot compare 1917 to other war dramas such as Saving Private Ryan, Dunkirk and Apocalypse Now. Just go and see it.
Currently screening in Luxembourg - see www.kinepolis.lu.