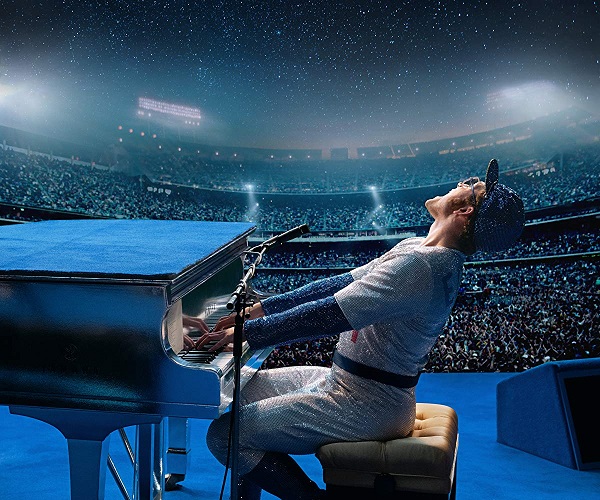 Directed by Dexter Fletcher (Bohemian Rhapsody; Eddie the Eagle; Sunshine on Leith) and starring Taron Egerton (Kingsman; Testament of Youth; Eddie the Eagle), Jamie Bell (Billy Elliot; The Adventures of Tintin: The Secret of the Unicorn; King Kong; Snowpiercer) and Richard Madden (Bodyguard (TV Series); Game of Thrones (TV Series)).
Biopic, musical; 121 mins
Part musical, part biopic, Rocketman tells the story of Elton John (born Reginal Dwight) who craved love from his parents as a young boy, growing up and becoming the superstar he is today. The storyline traces his roots as a young boy to displaying a gift for piano playing and earning a scholarship at the Royal Academy of Music. Wanting to perform, Elton John (Taron Egerton) was put together with aspiring lyricist Bernie Taupin (Jamie Bell), with whom he still works today.
Working to a great script which is based on anecdotes from his childhood and early adult memories, the more memorable scenes are without dialogue where he (Elton John) toys with a piano's keyboard in putting music to a sheet of lyrics just handed to him by Bernie Taupin.
It was only when he had played at the Troubadour nightclub in Hollywood, California, and before he had gained significant recognition in Britain, that he met John Reid (Richard Madden) who was to become his manager and partner, a volatile relationship that soured. But Elton John moved onwards and upwards to achieve incredible success based on his undoubted talent and showmanship.
In between this meteoric rise was his increasing dependence on alcohol and drugs, with sessions at an AA group revealing his inner torments and desire to be loved by his parents who eventually divorced and both remarried. These scenes involve flashbacks from what becomes the final scene in the film. However, the film does chart the support he received from his grandmother who encouraged his love for music and brought him to the Royal Academy of Music.
The music score is central to the film, with not just concert performances recreated for the cameras, but many impromptu songs springing up from a host of situations, including "Saturday Night's Alright for Fighting" set in a rowdy pub from which a fight spills onto the street, and so on.
Wonderful performances by all three of the main characters, Taron Egerton, Jamie Bell and Richard Madden. A feel-good film that charts the highs and lows, including the troubles and challenges, of one of pop's most flamboyant icons which needs the viewer to keep an open mind throughout. But try not to compare it too closely with Bohemian Rhapsody or A Star is Born...