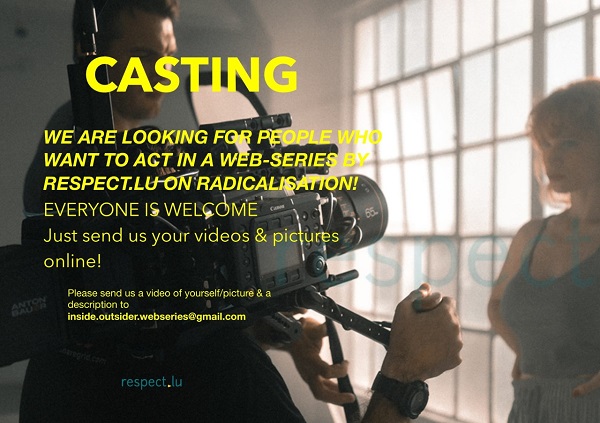 The Luxembourg centre against radicalisation respect.lu has announced a casting call for the production of a web series.
This summer, respect.lu is filming a web series on the subject of radicalisation. Young director Lukas Grevis will direct five short fiction films showing the inner life and thoughts of people on the path to radicalisation. Together, the films will make up a coherent image of the different forms of radicalisation.
The films will be framed by a pedagogical structure reflected in the following questions:
What are the causes of radicalisation?
At what point are opinions no longer "correct" for a plural society or for other human beings?
What are the possibilites of obtaining assistance as a person in the process of radicalisation or as a person affected by radicalisation in their environment?
What are the consequences of a radical action?
How can individuals defend themselves against extremism?
The people presented in the series will reflect a large part of Luxembourgish society in terms of language, age, social class, education, migration background, sex and sexual orientation. The aim is to show clearly how radicalisation can take place in any setting.
In the future, the series will be available online and presented during events.
Casting is currently underway and the series will be filmed in September. Respect.lu is looking for people speaking a variety of languages, such as Luxembourgish, English, Portuguese, German, French, Arabic, Italian or Serbo-Croatian.
Filming will take place in Luxembourg over a ten-day period. Several other groups of people and musicians are also involved in the process of creation.
To apply to this casting call, interested persons should send a video / picture and a description of themselves via email to inside.outsider.webseries@gmail.com.
The series receives support from the Oeuvre Nationale de Secours Grand-Duchesse Charlotte and Luxembourg's Ministry of Culture.
For further information, contact respect.lu via email: respect@respect.lu or via tel.: 206-062.