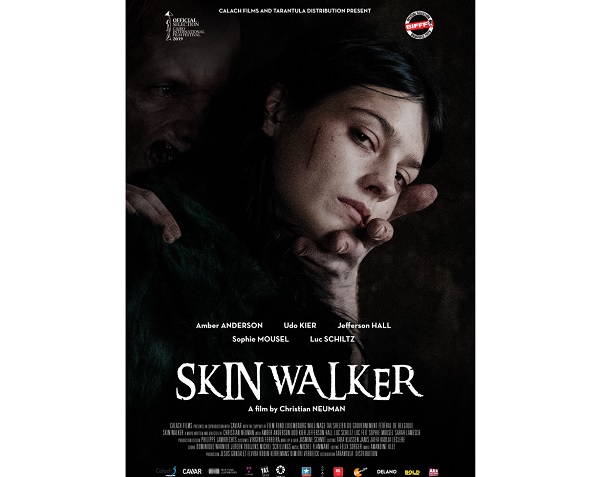 Luxembourg co-production "Skin Walker" will be released in cinemas across the country on Wednesday 14 October 2020.
After the cancellation last spring of the premiere and the release of the film, Tarantula Distribution Sàrl has announced the Luxembourg cinema release of Christian Neuman's first feature film: Skin Walker, in cinemas from 14 October.
Skin Walker had its world premiere last year at the Cairo International Film Festival, before being selected for the Luxembourg City Film Festival and the Brussels International Fantastic Film Festival. This majority Luxembourgish co-production, produced by Luxembourg-based Calach Films and Belgium's Caviar Films, received support from the Luxembourg Film Fund.
Luxembourg director Christian Neuman studied art and cinema in London. He is also a painter and creative director in advertising. Skin Walker is Mr Neuman's first feature-length film. Prior to this, several of his short films and art house projects were screened in museums and at international festivals.
Skin Walker is a psychological thriller led by British actress Amber Anderson (Black Mirror, White Lie, In Darkness...), who plays the role of Régine. The film tells the story of a fragile young woman, who tries to build a new, safer life away from her dark past.
Amber Anderson shares screen time with other international actors, notably Jefferson Hall (Game of Thrones) and Udo Kier (Melancholia), as well as Luxembourgish actors such as Sophie Mousel (Capitani), Sarah Lamesch (Péitruss), Luc Schiltz (Eng nei Zäit) and Luc Feit (Tatort). A number of Luxembourgish talents also feature on the technical team: Amandine Klee, director of photography; Virginia Ferreira, costume supervisor; Jasmine Schmit, head of make-up; Felix Sorger, editor.
Skin Walker was mostly filmed in Luxembourg, in locations such as the ArcelorMittal factory in Schifflange, Sang a Klang in Luxembourg-ville and Meysembourg castle in the municipality of Larochette.
The film will be in all cinemas across Luxembourg from 14 October. Avant-premieres, in the presence of the film crew, are scheduled for 5 to 9 October as follows:
- Monday 5 October: Ciné Scala, Diekirch @ 19:00
- Tuesday 6 October: Kinoler, Kahler @ 20:00
- Wednesday 7 October: Kulturhuef Kino, Grevenmacher @ 20:00
- Thursday 8 October: Ciné Prabbeli, Wiltz @ 19:00
- Friday 9 October: Ciné Sura, Echternach @ 20:15