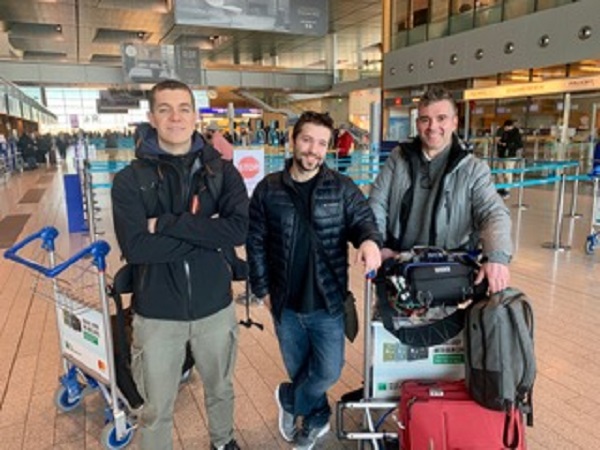 Fabrizio Maltese (on right) with Vanni Bassetti, assistant director, and Arnaud Mellet, sound engineer, departing from Luxembourg Airport for filming; Credit: © Red Lion
Luxembourg film production company Red Lion has announced that Fabrizio Maltese has taken over the role of the late Pol Cruchten as director of the documentary "Visage(s) d'Afrique".
Luxembourgish filmmaker Pol Cruchten was preparing to shoot the feature-length documentary before his death in July 2019. Initially, Fabrizio Maltese, an Italian-born, Paris- and Luxembourg-based photographer and filmmaker, was supposed to assume the position of director of photography. Red Lion, with the renewed support of Film Fund Luxembourg, has since decided to entrust Fabrizio Maltese with the reins of the project, following initial preparation of the documentary with the late Pol Cruchten.
"Visage(s) d'Afrique" is set to be an open window onto a still very rarely shown territory in cinema: Mauritania, the birth country of the filmmaker Abderrahmane Sissako (Timbuktu), who is also involved in the project.
The film is Fabrizio Maltese's fourth feature-length documentary after "Twenty-Five Palms" (2015), "50 Days in the Desert" (2016) and "California Dreaming", which since its Luxembourg cinema release in autumn 2019 has been shown at several festivals around the world, notably in Cleveland, Galway and Tallinn and at the Thessaloniki Documentary Festival and the Transylvania Intl Film Festival.
Written by Stéphan Roelants and Fabrizio Maltese, filming for "Visage(s) d'Afrique" has been underway since Wednesday 22 January 2020, split between Senegal and Mauritania.