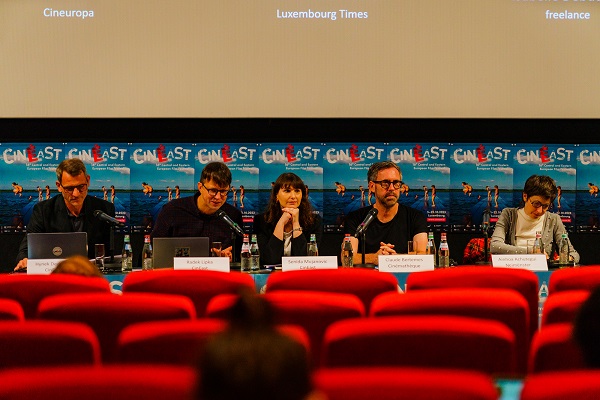 Credit: Kirill Veprikov
The sixteenth edition of CinEast, the Central and Eastern European Film Festival in Luxembourg, taking place from Thursday 5 to Sunday 22 October 2023, will offer around 120 in-cinema screenings of 60 feature films and over 40 short films; the full programme is now available at www.cineast.lu.
In addition to the films, this year's programme will include various events such as concerts at Melusina, Rockhal, Rotondes, Abbaye de Neumünster (neimënster) and the Cinémathèque, ciné-debates, an extensive photography exhibition and two other exhibitions, several special evenings and the CinEast Pro co-production forum. This year's edition includes a special focus on Ukraine, presenting Ukrainian films and moderating discussions related to the situation in Ukraine, organised in collaboration with the Ukrainian Embassy in Brussels and LUkraine asbl.
The festival will continue its CinEast4Ukraine charity project in support of Ukraine this year. Launched immediately after the outbreak of the war in March 2022 in order to support those in need in Ukraine, the 2022 edition raised €16,500 which were used to purchase a second-hand equipped ambulance that was sent to Ukraine. In collaboration with their partner association LUkraine asbl, their goal in 2023 is to raise a similar amount for another equipped ambulance, thereby providing concrete help for people in Ukraine.
Besides the main festival venues in Luxembourg City (the Cinémathèque, Neimënster, Ciné Utopia and Kinepolis Kirchberg), screenings will also take place at the Ancien Cinéma in Vianden, Ciné Starlight (CNA) in Dudelange and also the Achteinhalb cinema in Saarbrücken. Special screenings will take place in Mudam and Cercle Cité and also in partnership with the Musées de la Ville. Furthermore, a number of school screenings will take place at collaborating schools.
Six films co-produced by Luxembourg will be presented in special screenings with numerous guests, including four Luxembourg premieres: Lost Country by Serbian director Vladimir Perišić (co-produced by Red Lion), Boss by Romanian director Bogdan Mirica (co-produced by Les Films Fauves), Do Not Expect Too Much from the End of the World by Romanian director Radu Jude Arsenie and An Amazing Afterlife by Romanian director Alexandru Solomon (both co-produced by Paul Thiltges Distribution). The programme also includes a special screening of the animated film My Love Affair with Marriage by Latvian director Signe Baumane (co-produced by Antevita Films) and the short film Date Night by Luxembourgish-Lithuanian artist Gintare Parulyte. Several guests will be present during these sessions.
The Central and Eastern European Film Festival (CinEast) has grown significantly since its inception in 2008, attracting a diverse audience. In 2022, it drew around 9,850 attendees. CinEast features films from former communist countries that are now EU members, as well as other countries from the former Yugoslavia, Albania, Moldova, Ukraine, and Georgia. The festival is supported by various partners, including Luxembourg's Ministry of Culture, Film Fund Luxembourg, the City of Luxembourg, PwC, Kulczyk Investments (among others) and cultural institutes of several participating countries.
The festival showcases recent productions, including award-winning films, classic films, and those related to the "Adaptations" theme. It offers various sections, including an official competition, Cinéscope, FunnyEast, East Goes West, Cinédocs, Cinéshorts and Cinéspecials. There will be special screenings, short film marathons and themed evening events. Some of these are, for example: a Women's Event, "Feeling (in)different", "Bright future?", "Fridays for the Planet" and "All Saints Night".
The musical events featured will include performances by Ukrainian folk band Yagody, live soundtracks to silent films and concerts by renowned bands like Dubioza Kolektiv. An extensive photography exhibition and cine-debates are also on the programme.
Central and Eastern European cuisine dishes (mainly Czech and Ukrainian), will also be available.
The festival also hosts a co-production forum for film professionals. Some of the films will notably also be available online in the "CinEast Online Cinema" dedicated VOD platform.