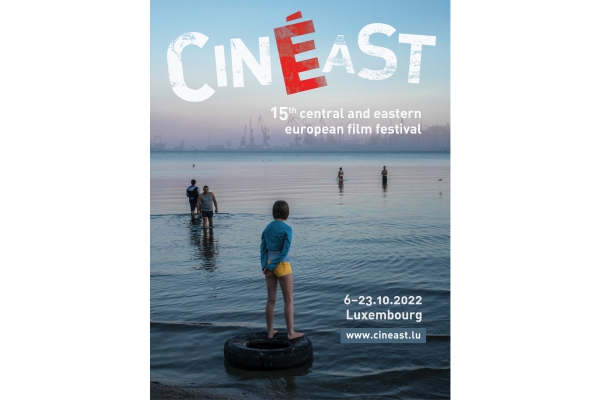 The 15th edition of CinEast, the Central and Eastern European Film Festival in Luxembourg, taking place from 6 to 23 October 2022, will present around 120 in-cinema screenings of 55 feature films and 45 short films; the full programme is now available at www.cineast.lu.
The seven films in competition are: 107 Mothers by Peter Kerekes, Gentle by Anna Eszter Némes and László Csuja, How Is Katia by Christina Tynkevych, Moja Vesna by Sara Kern, Occupation by Michal Nohejl, Other People by Aleksandra Terpińska and R.M.N. by Cristian Mungiu.
The Macedonian director Teonora Strugar Mitevska will preside over the International Jury of the 15th CinEast. The other members of the jury that will award the Grand Prix and the Special Jury Prize are Luxembourgish actor Luc Schiltz, Czech director Erika Hníková, Luxembourgish producer Marion Guth, and Polish director Dawid Nickel.
The Press Jury, which will award the Critics' Prize, is composed of journalists Valerio Caruso (Cineuropa), Geof Thomspon (Chronicle.lu) and Nora Schloesser (Luxemburger Wort).
The recently introduced Young Talents Jury, composed of students of the BTS Cinema film studies at Lycée des Arts et Métiers (Luxembourg), Andy-Lee Hoareau, Léa Petitjean, Céline Schlesserand Kevin Wagner, will choose the winner of the Young Talents Award that will be given to a first or second-time director from the following selection: A Room Of My Own by Ioseb Soso Bliadze, Blue Moon by Alina Grigore, Luxembourg Luxembourg by Antonio Lukich, Songs About Love by Tomasz Habowski and The Uncle by David Kapac and Andrija Mardešić.
The festival's opening film is Luxembourg, Luxembourg by Antonio Lukich, which will be screened after the Official Opening ceremony held on 6 October at the Neimënster cultural centre in Luxembourg. The main thematic cycle of the 15th edition is "Communities" and includes numerous films and an extensive photo exhibition. The programme features films from 20 countries of the former Eastern bloc screened at major venues in the City of Luxembourg (Cinémathèque, Neimënster, Ciné Utopia and Kinepolis Kirchberg) as well as other towns in the country. A large part of the films will also be available online – with a limited number of views and geo-blocked to Luxembourg – through "CinEast Online Cinema", the festival's dedicated VOD platform (cineast.eventive.org).
Also on the programme: Focus on Czechia (organised in collaboration with the Embassy of Czechia in Luxembourg), Special Ukrainian Programme, four discussions (ciné-debates) on hot topics, six concerts, an extensive photography exhibition "Communities", an exhibition of film posters, a photography/art exhibition, youth programmes, special themed evenings and more. The festival will welcome around 30 guests, including Alina Grigore, Zbygniew Zamachowski, Ilmar Raag, Christina Tynkevych, Anna Eszter Nemes, Vojtěch Mašek and others.