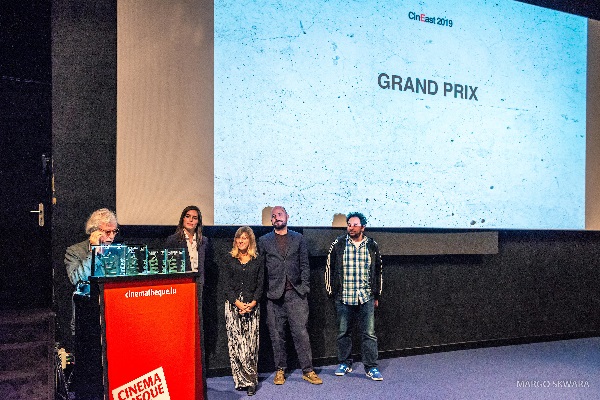 Credit: Margo Skwara
At the Awards Ceremony of the 12th edition of CinEast, the Central and Eastern European Film Festival in Luxembourg, held at the Cinémathèque Luxembourg on Saturday 20 October 2019, the International Jury awarded the Grand Prix to Juris Kursietis' "Oleg" (Latvia / Belgium / Lithuania / France) and the Special Jury Prize to Jan Komasa's "Corpus Christi" (Poland / France).
The Critics' Prize, awarded by the Press Jury, also went to "Corpus Christi", whilst the winner of the Audience Award was the film "Honeyland" by Ljubomir Stefanov and Tamara Kotevska (North Macedonia).
The International Jury of CinEast 2019, which took place this year from 3-20 October, was composed of the renowned French director and scriptwriter Jacques Doillon (President of the Jury), Italian festival programmer Renata Santoro (Venice Days), Romanian director Marius Olteanu, Luxembourgish director and producer Adolf El Assal and Luxembourgish actress Sophie Mousel. The Press Jury included the journalists France Clarinval (RTL), Marc Trappendreher (Lëtzebuerger Land) and Cristóbal Soage (Cineuropa).
Revealing the jury's decision regarding the Grand Prix winner, Jacques Doillon attributed the victory of the film "Oleg" to "its original and dynamic way of dealing with an important subject matter, namely modern slavery, staging an extraordinary situation and a strong male character immersed in an astonishing universe".
As regards the Special Jury Prize for "Corpus Christi", jury member Sophie Mousel attributed the jury's decision to the "strength of [the film's] story and its main character, embodied by a talented young actor, powerfully depicting the conflicts related to society and faith".
In addition, Marc Trappendreher attributed the Press Jury's decision to award the Critics' Prize to Corpus Christi to the film's "profoundly mastered form and precise images, the captivating performance of the main actor, the theme of faith and redemption, and the exploration of a situation that is rarely mentioned and not well known".
For its part, "Honeyland" received the best results in the votes given by the audience and was, therefore, named the winner of this year's Audience Award. Similarly, the Audience Awards for the Best Short Films were awarded to "The Christmas Gift" by Bogdan Muresan (fiction, Romania/France), "Toomas Beneath The Valley Of The Wild Wolves" by Chintis Lundgren (animation, Croatia/Estonia/France) and "Dancing For You" by Katarzyna Lesisz (documentary, Poland).
The ceremony was attended by the members of the International Jury and the Press Jury and was followed by a screening of the Closing film "The Whistlers" by Corneliu Porumboiu. The film "Oleg" that won the Grand Prix was also shown again on Sunday evening at the Cinémathèque Luxembourg.