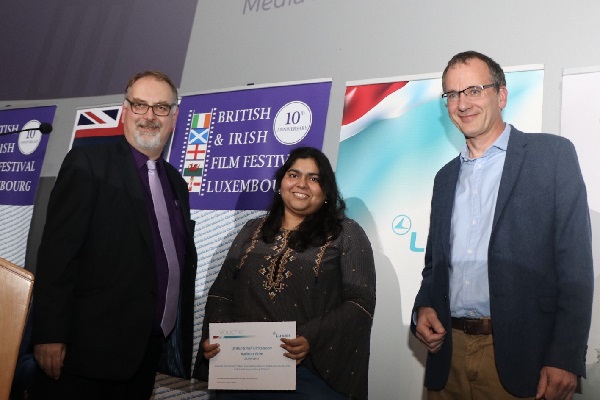 Audience Prize; Credit: Ali Sahib, BIFFL
On Sunday, the curtain came down on the 10th anniversary British & Irish Film Festival Luxembourg (rebranded this year from the British & Irish Film Season) which concluded with an informal Walking Brunch and screening of an eclectic Shorts programme.
The previous evening, the large screening room at Ciné Utopia was packed with not one free seat in the house for the Closing Screening - the avant-premier of "Downton Abbey" - preceded by the Festival Awards.
The British Ambassador to Luxembourg addressed the audience and said how he appreciated the cultural ties between Britian and Ireland, and thanked Geoff Thompson, festival organiser, and his team of volunteers for organising the festival
Geoff Thompson thanked all the sponsors and partners for their support of the festival through their support of the community and committment to Corporate Social Responsibility (CSR), naming each and every one, including both the British and Irish Embassies, the Irish Film Institute and the Film Fund Luxembourg, as well as the Edinburgh International Film Festival and the Galway Film Fleadh.
He briefly reviewed the 10-day festival which screened 16 feature films from England, Ireland, Scotland, Wales and Northern Ireland, and highlighted the Documentary Double Bill, the Vintage evening (new this year), the Ciné Cuisine (also new this year: Whisky Tasting & Walking Brunch, plus various receptions and 10th anniversary cake!) and the support of Luxembourg co-productions.
Critics' Award (voted by the ALPC - Luxembourg Film Critics' Association):
- 1st: "Rosie", directed by Paddy Breathnach
- Special Mention: "Alcock & Brown, the True Story", directed by Kevin Glynn
Audience Award:
- 1st: "The Spirit of the Game", directed by Liam McEvoy
Audience Prize:
- Chari KADAMBARI (wins 2 return flights to LondonCity or Dublin)
Audience numbers were on a par with 2018, a record year for the festival.