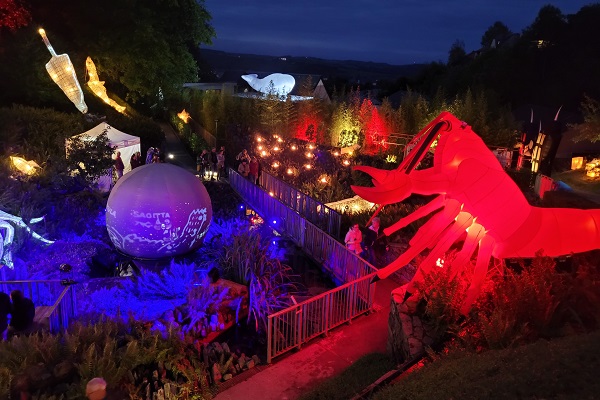 Credit: Jazmin Campbell / Chronicle.lu
The enchanting Nuits des Lampions arts festival, organised by COOPERATIONS Asbl, returned to the Jardin de Wiltz over the weekend.
This lantern festival kicked off in a more intimate format on the evening of Thursday 15 September 2022, with music by Weeltzer Musek and DJ Cat Claw. Visitors could admire the many light installations, as well as an indoor art exhibition called "Out of control, but real!", at their own pace throughout the evening.
The programme for the sold-out evenings of Friday 16 and Saturday 17 September 2022 was busier, with music, dance and light performances and a magic show. Parisian indie-pop band Tahiti 80 performed on Friday, whilst Belgian musician Sylvie Kreusch took the stage on Saturday. On both evenings, visitors could enjoy a photo exhibition and travelling performance, a magic show by John Happi, an acrobatics and dance show by Germany-based Japanese performer Hayato Yamaguchi, performances by Lady Lightflow & Sakiko Idei (light show and percussion), As we are (dance), 7Last (rock), Le Vibe (reggae) and Luxembourgish jazz rockers the Benoit Martiny Band. Food and drinks were available throughout the festival.
Created once again this year in collaboration between the inclusive workshops run by COOPERATIONS Asbl, the various departments of the regional socio-cultural centre and many visual artists, dancers and musicians in residency in Wiltz, the Nuits des Lampions put a spotlight on local talent and work in this area.
The artists behind the festival's many installations were: Alexander Bauer, Artizani, Ben Leenen, Bernadette Huijbers, Christine Schwarzer, Claire Flammang, Coen Eckhardt, Impossible Arts, Jacqueline Wassen, Jo Sijen, Lisa Gort, Mara Bosseler, Marjan Melkert, Paul Rinzo, Ri-Jeanne Cuppens, Sarah Mandres, Whally Range All Stars and Wim Körnhoff.
In an earlier interview on Chronicle.lu, Anne-Marie Krettels, Cultural Programme Coordinator at COOPERATIONS Asbl, had confirmed that the organisers expected up to 3,000 visitors in total this year. Due to demand, the organisers made an additional 100 tickets available for both the Friday and Saturday evenings just ahead of the festival - tickets which sold out within hours.