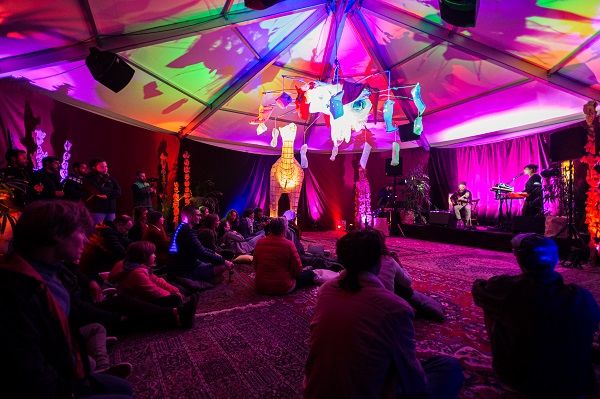 Nuits des Lampions 2021; Credit: COOPERATIONS asbl / Mike Zenari
The ever-popular Nuits des Lampions arts festival is set to return to the Jardin de Wiltz in an intimate format from Thursday 15 to Saturday 17 September 2022; tickets for the Saturday evening are already sold out.
Ahead of the 2022 edition of Nuits des Lampions, Chronicle.lu sat down with Anne-Marie Krettels, Cultural Programme Coordinator at COOPERATIONS Asbl, to discuss how the event has evolved over the years, what visitors can expect this year and why the organisers have decided to cap the number of attendees again.
The lantern festival started out small (invitation only), under the name "Visions of Paradise", as part of the Luxembourg European Capital of Culture project in 2007. As Anne-Marie explained, the festival, which became known as "Nuit des Lampions" ("night of lanterns") grew bigger each year, reaching 10,000 visitors about a decade after the first edition. The organisers, being a small team, found it challenging to organise such a large event and felt that the Nuit des Lampions had lost some of its original charm and purpose. In 2019, the organisers took a "creative break" to rethink the concept and then the COVID-19 pandemic hit, meaning there was again no Nuit des Lampions in 2020. The following year, the event returned to Wiltz in a new format: spread across three nights (thus "Nuits des Lampions" was born) and with a limited number of visitors, namely due to COVID-19 restrictions.
Anne-Marie admitted that the pandemic had not been all bad as it had allowed the organisers "the time and space to rethink [the event] and refocus" on what they wanted to achieve with this event, as well as what they felt visitors wanted to see. Over the years, the event had become crowded and "stressful", also for visitors who could no longer explore and enjoy the enchanted garden at their own pace. "It didn't really correspond to the initial idea anymore", added Anne-Marie. And so, the organisers decided to take the event back to its "smaller and more intimate" roots. The feedback for the smaller, three-day edition in 2021 was overwhelmingly positive, with visitors having enjoyed a more "relaxing" experience. The success of last year's event led the organisers to retain this concept for the 2022 edition; a total of 2,500 to 3,000 visitors are expected at this year's event.
The three-day format also allows for a more diverse programme that caters to different tastes. As Anne-Marie explained, the opening evening on Thursday 15 September 2022 will offer a more relaxed introduction to this enchanted atmosphere, whilst a busier programme with music, dance and light performances and a magic show is scheduled for the evenings of Friday 16 and Saturday 17 September 2022. The programme is almost identical on both these evenings, although the headliners differ: on Friday, Parisian indie-pop band Tahiti 80 will perform on the main stage of the Jardin de Wiltz, whilst Belgian musician Sylvie Kreusch, whose voice has been compared to that of Lana del Rey and Kate Bush, will take the stage on Saturday. Luxembourgish acts include jazz-rockers Benoit Martiny and the reggae group Le Vibe.
As part of participatory workshops, the COOPERATIONS leisure centre is also organising a photo exhibition and travelling performance during which actors dressed in luminous costumes will stroll through the garden on Friday and Saturday evening. Children aged four and up can enjoy watching a set of films called "La magie de l'animation" (the magic of animation) as well.
Anne-Marie explained that the organisers preferred to focus on attracting local and regional talent to Nuits des Lampions. This year will also see a Germany-based Japanese performer, Hayato Yamaguchi, perform dance and acrobatics (on Friday and Saturday). As well as new acts, the organisers often enjoy working with performers who have participated in previous editions of Nuits des Lampions or other cultural events in Wiltz.
Concerning what the organisers hope this event will achieve, Anne-Marie emphasised the importance of showcasing these lanterns which are made by disabled people in inclusive workshops in Luxembourg throughout the year. Some of the lanterns are also made by artists in residence who have come to Luxembourg from across Europe. "There is so much to discover", she said, adding that the lanterns are very intricate. "It's definitely nothing to rush through", she continued. Many of the lanterns have been refurbished and reused since the first edition in 2007, although the collection grows and changes each year to guarantee surprises for visitors.
She added that it was important to "see the artistic value of it and to see how much love and passion and time has been put into these lanterns and put into this whole event to make it possible". The event also gives a platform to musicians and other artists, thus showcasing the different kinds of art and talent that exists in Luxembourg and neighbouring countries.
Tickets (for Thursday and Friday) and full programme details are available on the Nuits des Lampions website: https://ndl.lu/.