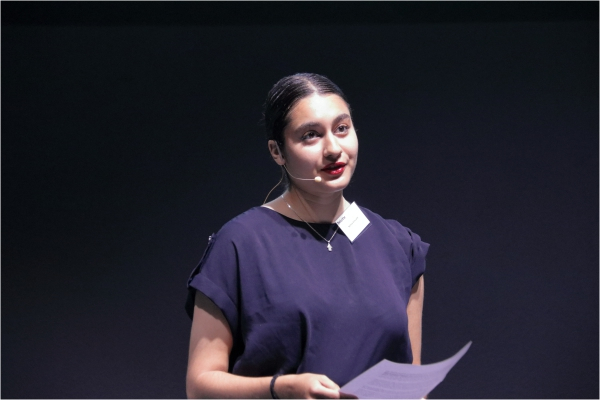 Selma Vincent; Credit: Kangkan Halder
On Tuesday 21 June 2022, nineteen-year old climate activist and one of the founding members of Youth for Climate initiative, Selma Vincent, called upon the nearly 175 registered participants at the 'Momentum 2022: Know, Form, Act' conference, organised by Deloitte Luxembourg, to act immediately to mitigate the climate harm already done.
John Psaila, Managing Partner at Deloitte Luxembourg, in his welcome note to the speakers and participants of the event, noted that a fundamental shift in the thinking in financial sector is happening where the value is not only measured in positive financial gain but also in terms of environmental, social and governance (ESG) impact created.
Pierre-Henri Golly, Communications Manager at Deloitte Luxembourg, in his introductory remarks said that these are complex problems and the first step to find solutions is to understand them, followed by effective strategies to be developed in collaboration with different partners and experts, and finally reflect upon what is already been done and access the effects thereupon. Mr Golly said that several changes in view of the environmental and social impact can be already done at individual company and organisation level.
Ms Vincent, in the keynote speech, commented that while climate activists tend to be weary of the financial service industry or government for that matter, they have been disappointed time and time again from many sectors on their call upon concrete action. She quoted a ClientEarth report stating that 90% of financial and audit reports for the 250 largest companies in the United Kingdom made no mention to the financial implications on climate change. She said the "we have already run out of time" and in this "climate emergency", and activists, fund managers, accounting firms, financial industry and other actors should be allies and work together towards sustainable growth.
Céline Bruhe, Senior Climate Officer at European Investment Bank (EIB), reflected upon the role, commitments and concrete actions taken by EIB, and objectives for a socially fair transition to sustainable growth. Ms Bruhe mentioned the EIB is continuously developing the European Union (EU) sustainable finance regulatory framework which includes preparing a detailed taxonomy landscape, disclosure framework and transparency, the three main pillars. While creating the first "green bond" in 2007 and nearly €200 billion in climate lending by EIB in the last decade, the climate actions are still underfunded. She said that challenges remain in terms of regulatory and taxonomy aligned financial reporting. However, there is a immense opportunity for financial markets to create and develop on sustainable growth and climate actions, Ms Bruhe concluded.
A panel discussion on financial sustainability by David Berners, Director Product Strategy & Investor Relations at Yunus Social Business, Adriana Balducci, Associate Director at Innpact and Gaelle Haag, CEO and co-founder StarTalers, and moderated by Dr Peter J Mathis, Research scientist at University of Luxembourg, concluded that environmental, social and governance are interconnected, and one cannot solve without taking care of all for sustainable growth objectives. The panel noted that the EU SDGs (Sustainable Development Goals) alone require up to €4 trillion annually while only 2% of the global funds are in some form of "ESG impact funds", and thus there is a huge shift in financial markets and regulatory framework is necessary to bring meaningful change. The panel also agreed, on several occasions during the discussion, that educating professionals as well as individual investors beyond SDG labelling or scoring is the key to bring about change. The panel emphasised that well-informed investors play a critical role in defining and developing new products and funds by asset managers to their taste, rather than choosing from the available market products, which probably do not go far enough on their climate actions.
The conference is followed by panel discussions on ESG Meets FinTech – the impact of financial technology on Environmental, Social and Governance; Sustainable consumption: how do we leverage on our consumer behaviour to make an impact on sustainability?; Sustainable production: How can we make production and manufacturing more sustainable?; Sustainability Measurement, Assessment and Reporting; and Chief Purpose Officer: Acting through the role of the CSO and how to be an effective change agent.