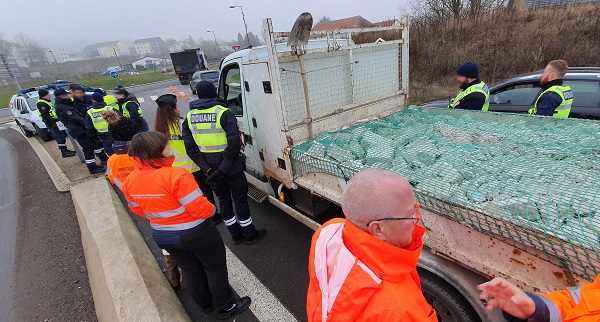 Credit: AEV
On Friday 24 January 2020, agents from Luxembourg's Environment Agency (AEV) carried out joint checks on waste transport at the Franco-Luxembourg border, in collaboration with the Grand Ducal Police and the French authorities.
These joint checks on cross-border waste transport led to the interception of 2.5 tonnes of prohibited waste on French territory (two tonnes of rubble and 500 kg of waste in rubbish bags).
The checks took place on both sides of the border. Together with the Environment Agency, the French authorities occupied two checkpoints in France, one on the D16 at Audun-le-Tiche and another at Micheville on the bypass. The Grand Ducal Police was responsible for the two posts in the Luxembourg, located in Belvaux (Rue de France) and Rumelange (Rue des Martyrs) just before crossing the border into Ottange.
The Environmental Agency has confirmed that it will take the necessary steps with the companies owning the offending vehicles.