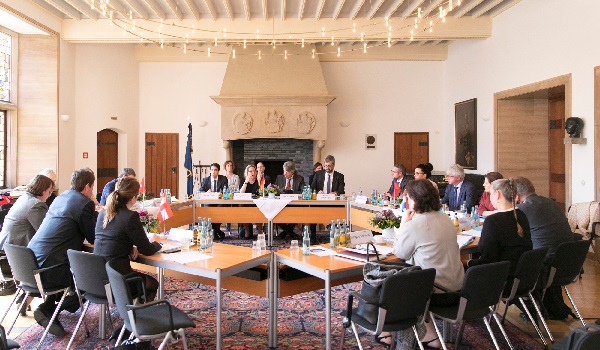 Credit: Ute Grabowsky/photothek/BMU
Luxembourg has expressed its support for strengthened cooperation in the field of anti-nuclear energy at this year's meeting of the German-speaking environment ministers, held on 29 and 30 April 2019 in Münster, Germany.
This year's meeting, bringing together the environment ministers of Luxembourg (Carole Dieschbourg), Germany (Svenja Schulze) and Austria (Elisabeth Köstinger) and councillors from Liechtenstein (Dominique Hasler) and Switzerland (Simonetta Sommaruga), focused on international climate protection policy and intensified cooperation against nuclear energy.
The ministers exchanged views on the state of negotiations for the implementation of the Paris Climate Agreement and on progress in climate protection in the run-up to the upcoming UN Climate Change Conference COP25 in Santiago in Chile in December 2019. The participants expressed consensus that the sustainability summit planned for September and the United Nations Secretary-General's climate summit are important milestones on the way to COP25 in order to interlock various global discussion threads and to give new impetus to the climate debate.
In addition, the EU ministers agreed that, on the basis of the European Commission's proposal, the EU would soon have to develop an ambitious long-term strategy for climate protection. In this context, the ministers argued that nuclear power can no longer play a role in a climate-friendly and thus greenhouse gas-neutral energy supply because of its risks and costs. This year, the ministers also looked at issues of nuclear energy use in Europe and related challenges, in particular for countries where nuclear power plants are not operating or where nuclear power is being phased out.
Environment Minister Carole Dieschbourg commented: "We have agreed to step up the fight against nuclear power across borders." Indeed, nuclear power plants have never been in operation in Austria, Luxembourg and Liechtenstein, but for their parts, Switzerland and Germany have decided to phase out nuclear power.
In the area of ​​water management and water protection, the ministers discussed the improvement of international cooperation for the protection of cross-border waters, in particular fish continuity in the Rhine catchment, as well as the preparation of the Conference of the Rhine Ministers in February 2020 in Amsterdam. They also argued in favour of an ambitious implementation of the EU Water Framework Directive as a central element of European water policy by 2027, as well as for a continuation of the directive beyond 2027.
The ministers similarly talked about common approaches in chemicals policy and their importance for the protection of health before Federal Environment Minister Schulze informed her colleagues about the plans for the German EU Council Presidency in the second half of 2020: the Ministry of the Environment will focus on digitisation and sustainability.