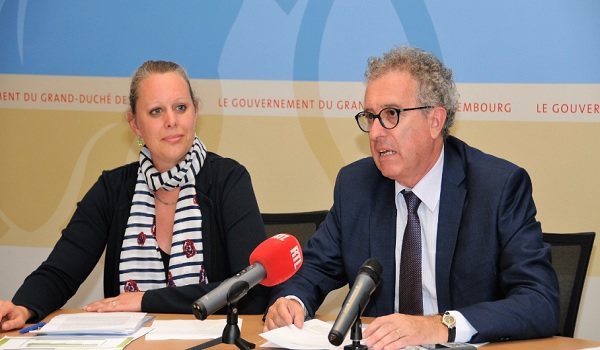 Luxembourg has signed the launching of a new initiative to strengthen the country's action in the framework of the Sustainable Development Objectives and the Paris Climate Agreement.
On 26 June 2017, Ministers Carole Dieschbourg and Pierre Gramegna signed the creation of the first phase of the Climate Finance Accelerator. This accelerator is intended to create the necessary structures that support climate finance by offering support to emerging and innovative investment fund managers wishing to invest in effective projects with measurable impact in the fight against climate change.
The Ministry of Finance and the Ministry of Sustainable Development and Infrastructure made the decision to contribute to the financing of the accelerator with €2 million over three years.
Pierre Gramegna commented on this initiative, saying that it "marks another important milestone for the development of green finance in Luxembourg and underlines the precursory role of our financial centre in this area".
The concept of the Climate Finance Accelerator was initiated by the government and a group of private actors, which are Arendt & Medernach, Deloitte, Elvinger Hoss Prussen, EY, Innpact, KPMG, LMDF and PWC. It was conceived within the framework of the Climate Finance Task Force, a think tank bringing together public and private actors in Luxembourg, with the aim of promoting innovative ideas and strategic alliances in the financing of the fight against climate change.
Following the establishment of an investment platform between the Luxembourg government and the European Investment Bank (EIB-Climate Finance Platform), the creation of a dedicated LuxFLAG label as well as the Green Stock Exchange, the accelerator is the fourth initiative in this context to highlight the skills and expertise in Luxembourg for investment vehicles with environmental and social impact and to develop and finance innovative projects with high impact in addressing the effects of climate change, both in developed and developing countries.
Photo by MFIN. L-R: Carole Dieschbourg, Minister of the Environment; Pierre Gramegna, Minister of Finance