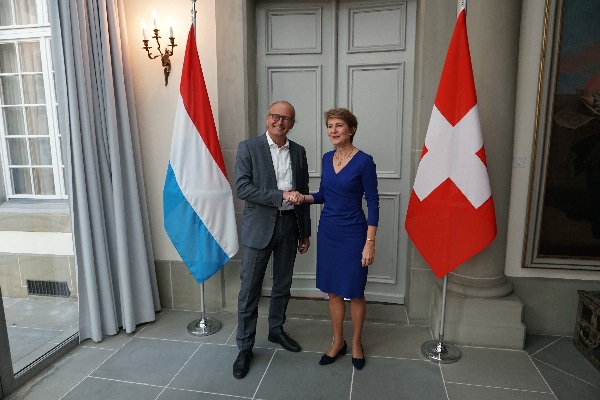 L-R: Claude Turmes, Minister of Energy and Spatial Planning; Simonetta Sommaruga, Head of the Federal Department of the Environment, Transport, Energy and Communications; Credit: MEA
The Luxembourg Ministry of Energy and Spatial Planning has announced plans to intensify cooperation with Switzerland in these areas.
This announcement follows the recent visit of Energy Minister Claude Turmes to Switzerland (10-12 September 2019), where he learned about the progress of Swiss energy projects and policies, as well as in the field of urban development and redevelopment.
Indeed, Luxembourg and Switzerland share similarities in terms of territorial development issues, such as sustained economic and demographic growth, a large number of cross-border workers and cross-border agglomerations. This visit thus offered an opportunity for both parties to discuss the strategies, practices and tools used in the areas of regional planning and energy.
On the evening of Tuesday 10 September 2019, Minister Turmes met with members of the Federal Assembly (Swiss Parliament) in Bern. Discussions touched on several topics, namely the energy transition, electromobility, research and the energy renovation of buildings.
The following day, Luxembourg's Energy Minister visited Basel where met the heads of the IBA Basel (Internationale Bauaustellung Basel), an international architecture exhibition set up by the tri-national Basel agglomeration in 2010 and running until 2020, and learned about their various projects. He went on to visit the Badischer Bahnhof railway station, which serves as a cross-border station, but also a place of culture, a shopping centre and an architectural attraction.
On the final day of his visit, Claude Turmes met Simonetta Sommaruga, Vice-President of the Swiss Federal Council and Head of the Federal Department of Environment, Transport, Energy and Communications. On this occasion, the political leaders discussed the strategies pursued by Luxembourg and Switzerland in the fields of energy and spatial planning.
The conclusion of this meeting was that Luxembourg's energy department will intensify cooperation with its Swiss counterparts in areas such as building renovation and electromobility. In this context, Simonetta Sommaruga and Claude Turmes agreed on the need to continue bilateral exchanges in order to deepen the exchange of good practices in these fields.