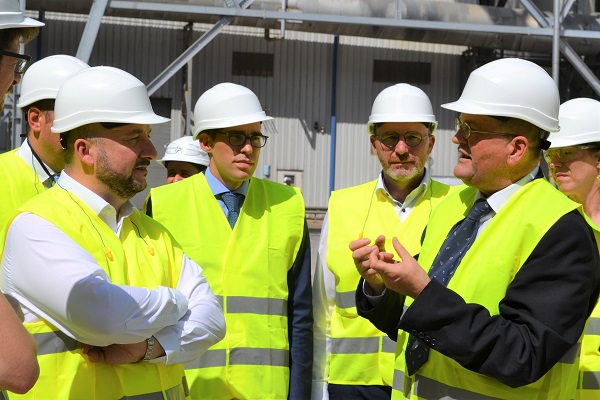 Kronospan site visit: (L-R): Étienne Schneider, Deputy Prime Minister; Matthias Kaindl, Kronospan; Georges Engel, Mayor of Sanem; Peter Stadler, Managing Director Kronospan Luxembourg; Credit: MECO
On Wednesday 24 July 2019, Étienne Schneider, Luxembourg's Deputy Prime Minister and Minister of the Economy, visited the family business Kronospan in Sanem which launched a five-year investment programme for €330 million in 2017.
Until now, Kronospan has already, as part of this programme, modernised and automated its production processes in line with the principles of the circular economy. Added to this is a second cogeneration plant producing thermal and electrical energy from renewable sources equivalent to the needs of 25,000 households. In addition to an existing similar facility, the new cogeneration plant alone represents an investment of more than €50 million. Thus, Kronospan produces more energy from biomass than it consumes and makes the site passive in terms of CO2 emissions.
During a visit to the company's new facilities, Minister Schneider said "Kronospan's industrial investment project is exemplary in terms of the circular economy and renewable energies. Kronospan's investments are in line with our sustainable industrial development policy."
Present in Luxembourg since 1994, the Kronospan group specialises in the production of wood fibre panels, OSB and laminate flooring. Kronospan Luxembourg employs more than 320 people in Sanem and has an annual turnover of €135 million. Peter Stadler, Managing Director of Kronospan Luxembourg commented "Since early July 2019, the volume of renewable electricity produced by our two cogeneration plants is higher than the needs of our production site which becomes passive."