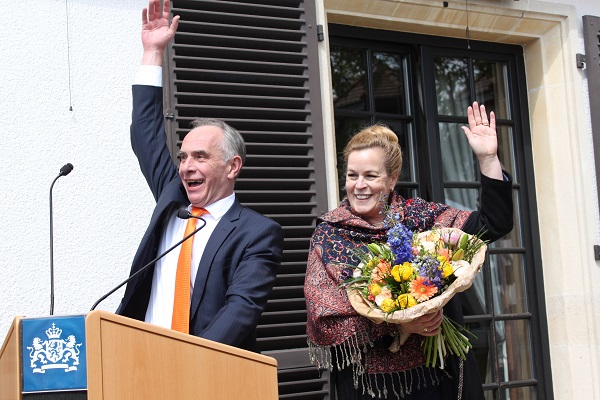 (L-R) Cees Bansema, the Dutch Ambassador to Luxembourg; Karen van Hout, the founder of Ambulanz-Wonsch; Credit: Otilia Dragan/Chronicle.lu
Around lunchtime on Tuesday 26 April 2023, the Dutch Ambassador to Luxembourg, Cees Bansema, hosted a reception at his residence in Luxembourg-Kirchberg to celebrate King's Day, the national day of the Netherlands (27 April).
Around 300 guests attended, including Luxembourg's Minister of Family Affairs and Integration and also for the Greater Region, Corinne Cahen, as well as other ambassadors. Also in attendance were representatives of government ministries, arts and culture and civil society, local business leaders, as well as representatives of the Dutch community (both social and business) in Luxembourg.

Ambassador Bansema spoke first in Luxembourgish to welcome everyone, then in French, after which he continued in English. First, the brass band present played the national hymns of the Netherlands and that of Luxembourg, with the guests singing along (orange slips of paper with the lyrics were provided upon entrance).
The Dutch ambassador then spoke about next year's 80th anniversary of Benelux and rejoiced about the partnerships created within this union, mentioning the foreign ministers' upcoming joined work trips to Africa and to the Balkans. He also addressed the invasion of Ukraine stating that "more and more we need to be a political union." He praised European efforts of jointly procuring ammunition and the support of Ukraine as well as the sanction packages implemented. He also stated that this support would carry on "as long as it takes, as much as it takes."

He closed his speech in Dutch, addressing the Dutch community residing in Luxembourg and took this opportunity to introduce the founder of Ambulanz-Wonsch, Karen van Hout, who won a prize last Christmas for her initiative helping terminally ill people make their final wish come true. Using a specially modified ambulance, they can be transported free-of-charge to a place of their choice. The ambassador warmly congratulated her and offered her a large flower bouquet.
The reception continued with trays of international finger food and Dutch snacks including gouda, "bitterballen" (type of meatballs) and "haringhappen" (raw herring with chopped pieces of raw onion).
The event was held under cover; three marquees had been erected in case of rain.
The Dutch ambassador's garden was colourful during this traditional event, with white, yellow, orange, pink and purple tulips in bloom.